Home/order
If you found this page via Google or another search engine, CLICK HERE to enter our full-featured site
B-52s original vinyl records
Listed by release date. Grading order is cover/vinyl. Grading standards & terms
TO ORDER on AMAZON:
● Click the Amazon link
● Select Vinyl
● View Collectible or Used to compare our offering with the competition!
The B-52's
The B-52's / 198? / Warner Bros BSK 3355
VG+ / VG+ / $35.00

Early '80s issue, Winchester pressing, Specialty mastering, with barcode on back cover. Lyric sleeve not included. Track list: Planet Claire, 52 Girls, Dance This Mess Around, Rock Lobster, Lava, There's A Moon In The Sky (Called The Moon), Hero Worship, 6060-842, Downtown.
The B-52's
Wild Planet / 1980 / Warner Bros BSK-3471
VG / VG++ / $20.00 BUY AT GREG'S GROOVES ON AMAZON MARKETPLACE
With original "paw print" inner sleeve. Cover shows moderate wear. Track list: Party Out Of Bounds, Dirty Back Road, Runnin' Around, Give Me Back My Man, Private Idaho, Devil In My Car, Quiche Lorraine, Strobe Light, 53 Miles West Of Venus
The B-52's
Mesopotamia (12-inch EP, PS) / 1982 / Warner Bros. MINI 3641
NM is / NM / $25.00

Original release with gold promo stamp on cover. Loveland, Deep Sleep, Mesopotamia, Cake, Throw That Beat In The Garbage Can, Nip It In The Bud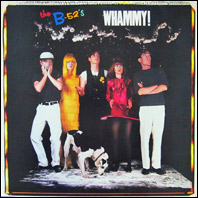 The B-52's
Whammy! / 1983 / Warner Bros 23819
VG++ / VG+ / $35.00

Includes custom inner sleeve with lyrics & credits. Legal Tender, Whammy Kiss, Song For A Future Generation, Butterbean, Trism, Queen Of Las Vegas, Don't Worry, Big Bird, Work That Skirt.
The B-52's
Bouncing Off The Satellites / 1986 / Warner Bros 25504
VG+ / VG+ / $18.00

Original release. Includes original inner sleeve with lyrics & credits (inner sleeve split at seams). Summer Of Love, Girl From Ipanema Goes To Greenland, Housework, Detour Thru Your Mind, Wig, Theme For A Nude Beach, Ain't It A Shame, Juicy Jungle, Communicate, She Brakes For Rainbows.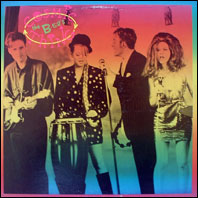 B-52's
Cosmic Thing / 1989 / Reprise 25854-1
VG++ / VG++ / $35.00

Includes original inner sleeve with lyrics & credits. Cosmic Thing, Dry County, Deadbeat Club, Love Shack, Dunebug, Roam, Bushfire, Channel Z, Topaz, Follow Your Bliss