If you found this page via Google or another search engine, CLICK HERE to enter our full-featured site
Dave Brubeck original vinyl records
Listed by release date. Please e-mail for more details. Grading order is cover/vinyl. Grading standards & terms
Dave Brubeck Quartet (more Jazz) (more Collectors Items)
Brubeck Time / 1955 / Columbia CL 622 mono
NM / NM / $75.00

Original release, "6-eye" label, in fine condition. With Paul Desmond, Bob Bates and Joe Dodge. Audrey, Jeepers Creepers, Pennies From Heaven, Why Do I Love You, Stompin' For Mili, Keepin' Out Of Mischief Now, A Fine Romance, Brother Can You Spare A Dime
Dave Brubeck Quartet
Jazz Red Hot And Cool / 1955 / Columbia CL 699 mono
VG++ / VG++ / $55.00

Original release, "6-eye" label. Tape on cover seam. With Paul Desmond, Bob Bates and Joe Dodge. Lover, Little Girl Blue, Fare Thee Well Annabelle, Sometimes I'm Happy, The Duke, Indiana, Love Walked In. Cover by Richard Avedon
Dave Brubeck
The Best Of Brubeck / 1957 / Jazztone J-1272 mono
NM / VG++ / $45.00
Selections from Fantasy recordings of his quartets, trio and octet. Jeepers Creepers, Stardust, Crazy Chris, Lullaby In Rhythm, Body And Soul, The Way You Look Tonight, Lyons Busy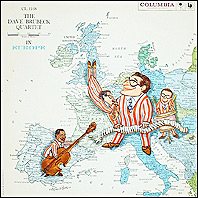 Dave Brubeck Quartet
The Dave Brubeck Quartet In Europe / 1958 / Columbia CL 1168 mono
VG+ wobc / NM / $25.00 BUY AT GREG'S GROOVES ON AMAZON MARKETPLACE
Original release, "6-eye" label. Vinyl like new. Small writing on back cover, 3-inch seam split, neatly taped, in top of cover
The Dave Brubeck Quartet
Newport 1958 / 1959 / Columbia CS 8082
NM / VG+ / $30.00
Original release, "6-eye" label. Live at the Newport Jazz Festival, July 3, 1958. With Paul Desmond, Joe Benjamin, Joe Morello
Dave Brubeck Quartet
Gone With the Wind / 1959 / Columbia CL 1347 mono
VG+ wobc / NM / $20.00 BUY AT GREG'S GROOVES ON AMAZON MARKETPLACE
Original release "6-eye" label. Vinyl like new. Small writing on back cover
The Dave Brubeck Quartet (more Collectibles)
Time Out / 1959 / Columbia CS 8192
VG+ / VG / $95.00 BUY AT GREG'S GROOVES ON AMAZON MARKETPLACE
Original stereo release, "6-eye" "Stereo Fidelity" labels without small "CBS" logo. Credits centered under tune titles on labels. Matrix #s in runout XSM47855 2AK and XSM47856 2BF. Track list: Blue Rondo A La Turk, Strange Meadow Lark, Take Five, Three To Get Ready, Kathy's Waltz, Everybody's Jumpin', Pick Up Sticks. Cover art by S. Neil Fujita.
Dave Brubeck
Dave Brubeck's Greatest Hits / 1966 / Columbia CL 2484 mono
VG++ / NM / $35.00

Original mono release with "Mono" in white on label. Take Five, I'm In A Dancing Mood, In Your Own Sweet Way, Camptown Races, The Duke, It's A Raggy Waltz, Bossa Nova U.S.A., Trolley Song, Unsquare Dance, Blue Rondo A La Turk, Theme From Mr. Broadway. Liner notes on each of the tunes by George T. Simon.
Dave Brubeck Quartet
25th Anniversary Reunion / 1977 / Horizon SP-714
NM / NM / $25.00

Gatefold cover with extensive liner notes and comments by the quartet: Brubeck, Paul Desmond, Gene Wright and Joe Morello. Columbia Record Club edition
Dave Brubeck
Jackpot / 1967? / Columbia CS 9512
VG+ woc / VG+ / $25.00
Live at the Tropicana, Las Vegas, with Paul Desmond, Joe Morello, Eugene Wright. Small writing and sticker on cover
Dave Brubeck / Gerry Mulligan
Compadres / 1968 / Columbia CS 9704
NM / NM / $30.00

The Brubeck Trio featuring Mulligan
The New Brubeck Quartet
A Cut Above (2 LPs) / 1979 / Direct-Disk Labs DD 106
VG+ / VG+, NM / $25.00

Audiophile release. "Limited Edition" sticker partially removed from cover. Dave Brubeck is joined by sons Darius, Chris and Dan. Side 1 features a Duke Ellington medley, side 2 has excerpts from Brubeck's oratorio The Light In The Wilderness. Disc 2 features Brubeck experiments in time, including Unisphere and classics Three to Get Ready, Blue Rondo a la Turk, Unsquare Dance and Time Out. Extensive historical and biographical liner notes in gatefold insert