Home/order
If you found this page via Google or another search engine, CLICK HERE to enter our full-featured site

Cat Stevens (Yusuf) original vinyl records
Listed by release date. Please e-mail for more details. Grading order is cover/vinyl. Grading standards & terms
Cat Stevens
New Masters / 1967 / Decca DES 18010
VG / VG++ / $30.00 BUY AT GREG'S GROOVES ON AMAZON MARKETPLACE
Early work including "The First Cut Is The Deepest"
Cat Stevens
Mona Bone Jakon / 1970 / A&M SP-4260
NM / VG++ / $30.00

Original release, brown label. Lady D'Arbanville, Maybe You're Right, Pop Star, I Think I See The Light, Trouble, Mona Bone Jakon, I Wish I Wish, Katmandu, Time, Fill My Eyes, Lilywhite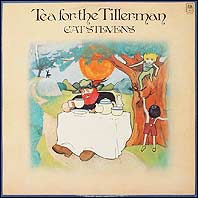 Cat Stevens
Tea For The Tillerman / 1972 / A&M SP-4280
VG+ / VG+ / $35.00 BUY AT GREG'S GROOVES ON AMAZON MARKETPLACE
Early issue, Monarch pressing, olive/brown labels. Engineeered by Lee Hulko at Sterling Sound. Includes original A&M inner sleeve made of recycled paper "as an anti-pollution measure." Track list: Where Do The Children Play?, Hard-Headed Woman, Wild World, Sad Lisa, Miles From Nowhere, But I Might Die Tonight, Longer Boats, Into White, On The Road To Find Out, Father And Son, Tea For The Tillerman.
Cat Stevens
Tea For The Tillerman / 1974 / A&M SP-4280
VG+ / NM / $20.00

2nd issue, silver label. Where Do The Children Play?, Hard-Headed Woman, Wild World, Sad Lisa, Miles From Nowhere, But I Might Die Tonight, Longer Boats, Into White, On The Road To Find Out, Father And Son, Tea For The Tillerman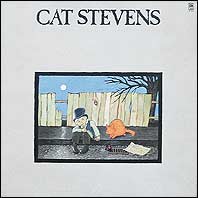 COVER SIMILAR TO ABOVE
Cat Stevens
Teaser and the Firecat / 1971 / A&M SP-4313
VG+ / VG+ / $16.00

Original release, brown label. Light stain visible on bottom of cover. A classic, with The Wind, Rubylove, If I Laugh, Changes IV, How Can I Tell You, Tuesday's Dead, Morning Has Broken, Bitterblue, Moonshadow, Peace Train. Gatefold cover with lyrics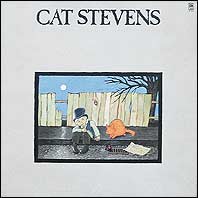 Cat Stevens
Teaser and the Firecat / 1974 / A&M SP-4313
NM / VG++ / $20.00

2nd issue, silver label. A classic, with The Wind, Rubylove, If I Laugh, Changes IV, How Can I Tell You, Tuesday's Dead, Morning Has Broken, Bitterblue, Moonshadow, Peace Train. Gatefold cover with lyrics
Cat Stevens
Catch Bull at Four / 1972 / A&M SP-4365
VG++ / NM / $15.00
Original release. Gatefold cover with lyrics. Sitting, Boy With A Moon & Star On His Head, Angelsea, Silent Sunlight, Can't Keep It In, 18th Avenue, Freezing Steel, O Caritas, Sweet Scarlet, Ruins
Cat Stevens
Greatest Hits / 1975 / A&M SP-4519
VG+ / VG++ / $24.00

With NM poster/lyric sheet. Wild World, Oh Very Young, Can't Keep It In, Hard Headed Woman, Moonshadow, Two Fine People, Peace Train, Ready, Father & Son, Sitting, Morning Has Broken, Another Saturday Night
Cat Stevens
Oh Very Young / 100 I Dream (7-inch PS) / 1973 / A&M AM-1503
VG++ / VG++ / $7.50
Cover shows Stevens' artwork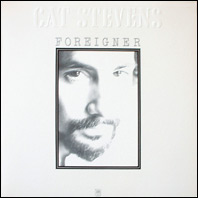 Cat Stevens
Foreigner / 1973 / A&M SP-4391
NM / VG++ / $25.00 $20.00 BUY AT GREG'S GROOVES ON AMAZON MARKETPLACE
Original with embossed cover. Includes frameable watercolor print by the artist, with lyrics on the back. Foreigner Suite, The Hurt, How Many Times, Later, 100 I Dream
Cat Stevens (more Audiophile albums) (more Rare & Collectible)
Saturnight / 1974 / A&M GP228
NM is / NM / $100.00

Japanese release, limited edition, in original shrinkwrap. Includes obi strip, insert in Japanese and custom inner sleeve. Unicef benefit concert, live at Nakano Sun Plaza, Tokyo, June 22, 1974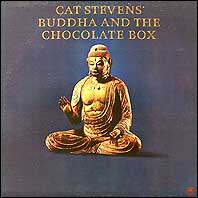 COVER SIMILAR TO ABOVE
Cat Stevens
Buddha And The Chocolate Box / 1974 / A&M SP-0698
VG+ / VG+ / $12.50 BUY AT GREG'S GROOVES ON AMAZON MARKETPLACE
Original release. Nice gatefold package, custom labels and inner sleeve with lyrics. Music, Oh Very Young, Sun/C79, Ghost Town, Jesus, Ready, King of Trees, Bad Penny, Home In The Sky
Cat Stevens
Buddha And The Chocolate Box / 1974 / Island 9101 630
VG+ / VG+ / $14.00
Rare French release. Gatefold cover with credits. Music, Oh Very Young, Sun/C79, Ghost Town, Jesus, Ready, King of Trees, Bad Penny, Home In The Sky
Cat Stevens
Izitso / 1977 / A&M SP-4702
VG++ / VG++ / $15.00
Original release, gatefold cover with lyrics. Old Schoolyard, Life, Killin' Time, Kypros, Bonfire, To Be A Star, Crazy, Sweet Jamaica, Was Dog A Doughnut, Child For A Day
Cat Stevens
Cat's Cradle / 1977 / London LC 50010
VG++ / VG++ / $18.00

Columbia Record Club edition. From his first two LPs - New Masters and Matthew & Son. Includes Matthew And Son, I Love My Dog, Here Comes My Baby, Baby Get Your Head Screwed On, Moonstone, First Cut Is The Deepest, Shift That Log, Kitty, Northern Wind, Bring Another Bottle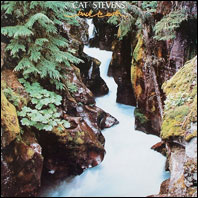 Cat Stevens
Back To Earth / 1978 / A&M SP-4735
VG++ / VG++ / $18.00 BUY AT GREG'S GROOVES ON AMAZON MARKETPLACE
Original release. Includes "Daytime," written for UNICEF Year of the Child, plus Just Another Night, Bad Brakes, Randy, The Artist, Last Love Song, Nascimento, Father, New York Times, Never. With original inner sleeve with lyrics
Cat Stevens
Footsteps In The Dark - Greatest Hits Volume Two / 1984 / A&M SP-3736
VG++ / VG++ / $20.00

Includes two previously unreleased songs from the "Harold & Maude" soundtrack - If You Want To Sing Out, Sing Out and Don't Be Shy. Also includes The Wind, (I Never Wanted) To Be A Star, Katmandu, I Want To Live In A Wigwam, Trouble, On The Road To Find Out, Where Do The Children Play?, Daytime, How Can I Tell You, Father And Son, The Hurt, Silent Sunlight. Includes custom inner sleeve with lyrics
Cat Stevens
The Collection (2 LPs) / 1985 / Castle Collector CCSLP 127
VG+ / VG+, VG+ / $20.00

Early recordings from 1966-68 including The First Cut Is The Deepest, I Love My Dog, Matthew And Son ... email for track list