Home/order
If you found this page via Google or another search engine, CLICK HERE to enter our full-featured site
CHER original vinyl records

Listed by release date. Please e-mail for more details. Grading order is cover/vinyl. Grading standards & terms
See also Sonny & Cher
Cher (see also Chastity soundtrack)
All I Really Want To Do / 1965 / Imperial LP-9292 mono
VG+ / VG+ / $20.00

Her solo debut, original release. Light stain on back cover. All I Really Want To Do, I Go To Sleep, Needles And Pins, Don't Think Twice, She Thinks I Still Care, Dream Baby, The Bells Of Rhymney, Girl Don't Come, See See Rider, Come And Stay With Me, Cry Myself To Sleep, Blowin' In The Wind
Cher
Cher / 1971 / Kapp KS 3649
VG++ / VG++ / $15.00
Original release. Includes "Gypsies, Tramps & Thieves"
Cher
Cher Superpak Vol. II (2 LPs) / 1972 / United Artists SWBB-94961
NM / NM, NM / $25.00
Capitol Record Club edition. Repackaging of Imperial sides. Cher sings Dylan and much more: Our Day Will Come, The Times They Are A-Changin', Come To Your Window, I Wasn't Ready, Hey Joe, Milord, Don't Think Twice It's All Right, She Thinks I Still Care, The Cruel War, A Young Girl, Song Called Chuldren, The Girl From Ipanema, Ol' Man River, The Impossible Dream (The Quest), Cry Myself To Sleep, Carnival, Twelfth Of Never, Like A Rolling Stone, It's Not Unusual, I Want You, I Will Wait For You, Take Me For A Little While, Sing For Your Supper, Go Now
Cher
Foxy Lady / 1972 / Kapp KRS-5514
VG++ / VG++ / $14.00
Original release. Living In A House Divided, It Might As Well Stay Monday, Song For You, Down Down Down, Don't Ever Try To Close A Rose, The First Time, Let Me Down Easy, If I Knew Then, Don't Hide Your Love, Never Been To Spain
Cher
Bittersweet White Light / 1973 / MCA R123701
NM is / VG++ / $12.00
RCA Music Service edition. By Myself, I Got It Bad And That Ain't Good, Am I Blue, How Long Has This Been Going On, The Man I Love, Jolson Medley, More Than You Know, Why Was I Born, The Man That Got Away.
Cher
Cher's Greatest Hits / 197? / Springboard SPB-4028
VG+ / VG++ / $12.50
Bang Bang, Elusive Butterfly, Where Do You Go, Come To Your Window, All I Really Want To Do, Needles And Pins, Don't Think Twice It's Alright, Come And Stay With Me, Cry Myself to Sleep
Cher
Half Breed / 1973 / MCA 2104
NM / NM / $12.50

Cher
The Very Best Of Cher Vol. 2 / 1975 / United Artists UA-LA435-E
VG++ co / NM / $12.50

A House Is Not A Home, Homeward Bound, Elusive Butterfly, Our Day Will Come, It's Not Unusual, The Girl From Ipanema, The Impossible Dream, Until It's Time For You To Go, You Don't Have To Say You Love Me

Cher
Take Me Home / 1979 / Casablanca NBLP-7133
VG++ / VG+ / $12.50

A great cover with Cher in full cry
Cher
Cher / 1987 / Geffen GHS 24164
VG++ / NM / $14.00
BMG Direct Marketing edition. Custom inner sleeve with lyrics & credits. Cover and inner sleeve photography by Matthew Rolston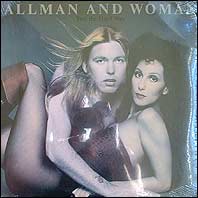 Cher and Gregg Allman - Allman & Woman (see also Allman Brothers) (more Sealed albums)
Two The Hard Way / 1977 / Warner Bros BSK 3120
Sealed VG++ cover / $75.00

Gregg Allman and Cher make music together. Factory-sealed, but one corner of cover lightly creased