Home/order
If you found this page via Google or another search engine, CLICK HERE to enter our full-featured site
Leonard Cohen original vinyl records

Listed by release date. Please e-mail for more details. Grading order is cover/vinyl. Grading standards & terms
Leonard Cohen
Songs Of Leonard Cohen / 1967 / Columbia CS 9533
VG+ / VG++ / $55.00

Original release of his seminal debut album, "360 Sound Stereo" label. Lyrics insert not included. Suzanne, Master Song, Winter Lady, The Stranger Song, Sisters Of Mercy, So Long Marianne, Hey That's No Way To Say Goodbye, Stories Of The Street, Teachers, One Of Us Cannot Be Wrong
Leonard Cohen
Songs Of Leonard Cohen / 1967 / Columbia CS 9533
VG+ / VG / $20.00 BUY AT GREG'S GROOVES ON AMAZON MARKETPLACE
Original release of his seminal debut album, "360 Sound Stereo" label. Very slight warp may affect first few seconds of play on each side. Lyrics insert not included. Suzanne, Master Song, Winter Lady, The Stranger Song, Sisters Of Mercy, So Long Marianne, Hey That's No Way To Say Goodbye, Stories Of The Street, Teachers, One Of Us Cannot Be Wrong
Leonard Cohen (more Sealed albums)
Songs From A Room / 1970 / Columbia CS 9767
Sealed / $100.00 $75.00

First or second issue. Very slight corner wear, otherwise as new. An early classic with Bird On The Wire, Story Of Isaac, A Bunch Of Lonesome Heroes, The Partisan, Seems So Long Ago Nancy, The Old Revolution, The Butcher, You Know Who I Am, Lady Midnight, Tonight Will Be Fine.

Leonard Cohen
Songs Of Love And Hate / 1971 / Columbia C 30103
VG+ / NM / $50.00 BUY AT GREG'S GROOVES ON AMAZON MARKETPLACE
Original release. Avalanche, Last Year's Man, Dress Rehearsal, Diamonds In The Mine, Love Calls You By Your Name, Famous Blue Raincoat, Sing Another Song Boys, Joan Of Arc. Includes original black inner sleeve.
Leonard Cohen
New Skin For The Old Ceremony / 1974 / KC 33167
VG+ / VG+ / $35.00

Original release. Is This What You Wanted, Chelsea Hotel #2, Lover Lover Lover, Field Commander Cohen, Why Don't You Try, There Is A War, A Singer Must Die, I Tried To Leave You, Who By Fire, Take This Longing, Leaving Green Sleeves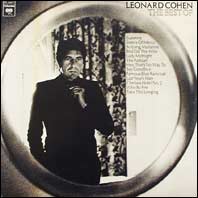 Leonard Cohen
The Best Of / 198? / Columbia PC 34077
NM / VG++ / $35.00

Reissue. Suzanne, Sisters Of Mercy, So Long Marianne, Bird On The Wire, Lady Midnight, The Partisan, Hey That's No Way To Say Goodbye, Famous Blue Raincoat, Last Year's Man, Chelsea Hotel No. 2, Who By Fire, Take This Longing
Leonard Cohen
Death Of A Ladies Man / 1977 / Warner Bros. BS 3125
VG++ / VG++ / $35.00

Original release. Produced by Phil Spector. True Love Leaves No Traces, Iodine, Paper-Thin Hotel, Memories, I Left A Woman Waiting, Don't Go Home With Your Hard-on, Fingerprints, Death Of A Ladies Man. Gatefold cover with lyrics

COVER SIMILAR TO ABOVE
Leonard Cohen
Recent Songs / 1979 / Columbia PC 36264
VG+ / VG++ / $30.00

Custom inner sleeve with lyrics. The Guests, Humbled In Love, The Window, Came So Far For Beauty, The Lost Canadian (Un Canadien Errant), The Traitor, Our Lady Of Solitude, The Gypsy's Wife, The Smokey Life, Ballad Of The Absent Mare
Leonard Cohen
Various Positions / 1985 / Passport PB 6045
VG++ wobc / NM / $60.00 RESERVED
Original release. Dance Me To The Edge Of Love, Coming Back To You, The Law, The Night Comes On, Hallelujah, The Captain, Hunter's Lullaby, Heart With No Companion, If It Be Your Will. Additional vocals by Jennifer Warnes. Small mark on cover where label was removed, very small writing on back cover
Leonard Cohen
I'm Your Man / 1988 / Columbia FC 44191
VG++ / VG++ / $50.00

Canadian release. First We Take Manhattan, Ain't No Cure For Love, Everybody Knows (with Jennifer Warnes), I'm Your Man, Take This Waltz, Jazz Police, I Can't Forget, Tower Of Song (with Jennifer Warnes)
Leonard Cohen
Ten New Songs / 2001 / Columbia C 85953
NM / VG++ / $35.00

With Sharon Robinson. Custom inner sleeve with lyrics