Home/order
If you found this page via Google or another search engine, CLICK HERE to enter our full-featured site
Crosby, Stills & Nash / CSNY original vinyl
Listed by release date. Please e-mail for more details. Grading order is cover/vinyl. Grading standards & terms
See also David Crosby, Stephen Stills, Graham Nash, Neil Young
CSN CSNY
Crosby, Stills & Nash
Crosby, Stills & Nash / 1969 / Atlantic SD 8229
NM / VG+ / $30.00 BUY AT GREG'S GROOVES ON AMAZON MARKETPLACE
Original release with Broadway address on label. Vinyl a strong VG+. With textured gatefold cover & lyric sheet. "Gold Record Award" sticker on cover. A classic with Suite: Judy Blue Eyes, Marrakesh Express, Guinnevere, You Don't Have To Cry, Pre-Road Downs, Wooden Ships, Lady Of The Island, Helplessly Hoping, Long Time Gone, 49 Bye-Byes

COVER SIMILAR TO ABOVE
Crosby, Stills & Nash
Crosby, Stills & Nash / 1969 / Atlantic 588189
VG++ / VG+ / $40.00

Original U.K. release, plum, orange & white label. With textured gatefold cover & lyric sheet. A classic with Suite: Judy Blue Eyes, Marrakesh Express, Guinnevere, You Don't Have To Cry, Pre-Road Downs, Wooden Ships, Lady Of The Island, Helplessly Hoping, Long Time Gone, 49 Bye-Byes
Crosby, Stills & Nash
Crosby, Stills & Nash / 1977 / Atlantic SD 19117
VG+ / VG / $12.00
Reissue of the classic debut album. Textured cover and lyrics insert.. Cover seams partially split, vinyl scuffed but playable
Crosby, Stills & Nash
CSN / 1977 / Atlantic SD 19104
VG++ / NM / $20.00

Cover photo variation shows the group cracking up on a sailboat. (More common cover shows them not so high). With "Dark Star". Custom inner sleeve with lyrics
Crosby, Stills & Nash
CSN / 1977 / Atlantic SD 19104
VG+ / VG+ / $14.00
With "Dark Star." Standard cover. Custom inner sleeve with lyrics
Crosby, Stills, Nash & Young (more Rarities)
Nice To See You - The Nineteen Seventy-Four Excursion (2 LPs) / 1979 / Beacon Island 2S718
VG+ / VG+, VG++ / $90.00

Australian release. Live at Nassau Coliseum, Uniondale, N.Y., Aug. 15, 1974. One of the rarest CSNY albums. Love The One You're With, Wooden Ships, Immigration Man, Down By The River, Grave Concern, Johnny's Garden, Almost Cut My Hair, Teach Your Children, Only Love Can Break Your Heart, Love Hard Blues, On The Beach, Carry Me, Pre-Road Downs, Walk On, Suite: Judy Blue Eyes, Blackbird, Long Time Gone, Carry On
Crosby, Stills & Nash
Replay / 1980 / Atlantic SD 16026
NM / NM / $17.00

Remixes of Carry On and I Give You Blind, plus Marrakesh Express, Just A Song Before I Go, Shadow Captain, Pre-Road Downs, Change Partners, First Things First, Cathedral. Crosby & Nash sing To The Last Whale (Critical Mass & Wind on the Water); Stills sings Love The One You're With
Crosby, Stills & Nash
Daylight Again / 1982 / Atlantic SD-19360
VG++ / NM / $20.00

Custom inner sleeve with lyrics & credits. Cover painting by Stan Ricker
Crosby, Stills & Nash
Allies / 1983 / Atlantic 80075-1
Sealed co / $18.00

"Super Saver Series" sticker on cover
Crosby, Stills, Nash & Young
Deja Vu / 1970 / Atlantic SD 7200
NM / VG++ / $35.00

Original release with Broadway address on label and high-quality textured cover. A classic with Carry On, Teach Your Children, Almost Cut My Hair, Helpless, Woodstock, Deja Vu, Our House, 4 + 20, Country Girl, Everybody I Love You
Crosby, Stills, Nash & Young
Deja Vu / 1977 / Atlantic SD 19118
NM / VG++ / $30.00

Quality reissue with purple textured and embossed gatefold cover. A classic with Carry On, Teach Your Children, Almost Cut My Hair, Helpless, Woodstock, Deja Vu, Our House, 4 + 20, Country Girl, Everybody I Love You.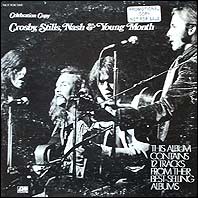 Crosby, Stills, Nash & Young (more Rarities)
Celebration Copy / Crosby Stills, Nash & Young Month / 1971 / Atlantic PR 165
VG+ / VG+ / $35.00

Rare White Label Promo, promo sticker on cover. Sampler, with solo tracks by Crosby, Stills, Nash on side 1, CSN and CSNY on side 2
Crosby, Stills, Nash & Young
4 Way Street (2 LPs) / 1971 / Atlantic SD 2-902
VG+ sps / NM, NM / $25.00

From their concerts in New York, Chicago and Los Angeles, summer of 1970. Includes insert with lyrics. Partial seams splits on cover
Crosby, Stills, Nash & Young
So Far / 1977 / Atlantic SD 19119
VG++ / NM / $15.00

Second issue of their "greatest hits" compilation, hard to find with clean and undamaged textured cover. Deja Vu, Helplessly Hoping, Wooden Ships, Teach Your Children, Ohio, Find The Cost Of Freedom, Woodstock, Our House, Helpless, Guinnevere, Suite: Judy Blue Eyes

COVER SIMILAR TO ABOVE

Crosby, Stills, Nash & Young
American Dream / 1988 / Atlantic 81888-1
VG++ co / VG++ / $16.00 BUY AT GREG'S GROOVES ON AMAZON MARKETPLACE
Original release. Promotional copy, with gold promo stamp on back cover. Sawmark in cover. Custom inner sleeve with lyrics and credits. Hype sticker on cover promotes "14 New Songs." Track list: American Dream, Got It Made, Name Of Love, Don't Say Goodbye, This Old House, Nighttime For The Generals, Shadowland, Drivin' Thunder, Clear Blue Skies, That Girl, Compass, Soldiers Of Peace, Feel Your Love, Night Song.