Home/order
If you found this page via Google or another search engine, CLICK HERE to enter our full-featured site
Donovan original vinyl records
Listed by release date. Please e-mail for more details. Grading order is cover/vinyl. Grading standards & terms
Donovan
Golden Hour Of Donovan / 1965? / Pye GH506
VG++ / VG+ / $15.00

U.K. release. Universal Soldier, Sunny Goodge Street, Josie, Little Tin Soldier, To Sing For You, Gold Watch Blues, Donna Donna, The Ballad of Geraldine, Colours, The War Drags On, Catch The Wind, Turquoise, Candy Man, Jersey Thursday, Why Do You Treat Me Like You Do, Ballad Of A Crystal Man, Hey Gyp (Dig The Slowness), The Alamo, I'll Try For The Sun, Belated Forgiveness Plea
Donovan
The Real Donovan / 1966 / Hickory LPS-H-135
VG+ / VG+ / $14.00
Original release.
Donovan
A Gift From A Flower To A Garden (2-LP box) / 1967 / Epic B2N 171
VG / VG+, VG+ / $15.00

Includes portfolio with 12 sheets with lyrics & drawings in NM condition. Box is intact but has large, partially erased writing on cover and sticker on back cover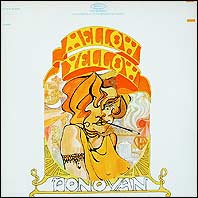 Donovan
Mellow Yellow / 1967 / Epic BN 26239
VG+ / VG / $12.50

Original release. Mellow Yellow, Writer In The Sun, Sand And Foam, The Observation, Bleak City Woman, House Of Jansch, Young Girl Blues, Museum, Hampstead Incident, Sunny South Kensington.

COVER SIMILAR TO ABOVE
Donovan
Sunshine Superman / 1968 / Epic BN 26217
VG+ / VG+ / $24.00

Original, yellow label. Plays very nicely - a quality recording. A classic with Season of the Witch, The Trip, Sunshine Superman, Guinevere, The Fat Angel, Celeste, Legend of a Girl, Child Linda, Three King Fishers, Ferris Wheel, Bert's Blues
Donovan
Donovan In Concert / 1968 / Epic BN 26386
NM is / VG+ / $18.00 BUY AT GREG'S GROOVES ON AMAZON MARKETPLACE
Live at the Anaheim (California) Convention Center in 1967, Donovan performs Isle Of Islay, Young Girl Blues, There Is A Mountain, Poor Cow, Celeste,The Fat Angel, Guinevere, Widow With Shawl (A Portrait), Preachin' Love, The Lullaby Of Spring, Writer In The Sun, Pebble And The Man, Rules And Regulations. Mellow Yellow. Sticker on shrink with album title. Vinyl a strong VG+
Donovan
Donovan's Greatest Hits / 1969 / Epic BXN 26439
VG+ / VG+ / $18.00

Original release with photo book and inner sleeve promoting Donovan albums. A fine compilation with Mellow Yellow, Sunshine Superman, Hurdy Gurdy Man, Epistle To Dippy, Wear Your Love Like Heaven, Jennifer Juniper, Colours, Catch The Wind, There Is A Mountain, Season Of The Witch, Lalena.
Donovan
The Hurdy Gurdy Man / 1969 / Epic BN 26420
VG++ woc / VG+ / $15.00

Hurdy Gurdy Man, Peregrine, The Entertaining Of A Shy Girl, As I Recall It, Get Thy Bearings, It's Been A Long Time, West Indian Lady, Jennifer Juniper, The River Song, Tangier, A Sunny Day, The Sun Is A Very Magic Fellow, Teas. Small writing on cover

Donovan
The Best Of Donovan / 1969 / Hickory LPS 149
NM is / NM / $18.00 BUY AT GREG'S GROOVES ON AMAZON MARKETPLACE
Original release. Universal Soldier, Colours, Catch The Wind, Hey Gyp (Dig The Slowness), The Little Tin Soldier, Tangerine Puppet, Dona Dona, Candy Man, Jersey Thursday, The Ballad Of Geraldine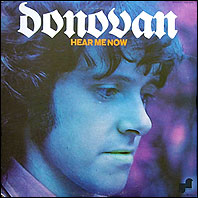 Donovan
Hear Me Now / 1971 / Janus JLS-3025
VG+ co / VG++ / $15.00