Home/order
If you found this page via Google or another search engine, CLICK HERE to enter our full-featured site
Duke Ellington
original vinyl records
Listed by release date. Please e-mail for more details. Grading order is cover/vinyl. Grading standards & terms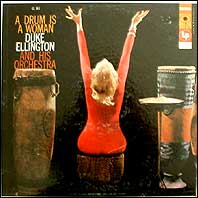 Duke Ellington
A Drum Is A Woman / 1957 / Columbia CL 951 mono
VG+ / VG+ / $28.00

Duke Ellington
Will Big Bands Ever Come Back? / 1965 / Reprise R 6168 mono
VG++ / VG+ / $15.00

Versions of classics made famous by other big bands, including Tuxedo Junction, Smoke Rings, Artistry In Rhythm, The Waltz You Saved For Me, Sentimental Journey, When It's Sleepy Time Down South, One O'Clock Jump, Goodbye, Sleep Sleep Sleep, Rhapsody In Blue, plus his own Don't Get Around Much Anymore
Duke Ellington And His Orchestra
Ellington At Fargo, Vol. 1 / 196? / Temple M-551 mono
VG+ / VG+ / $75.00

Super-rare, possibly unauthorized release. From Ellington's legendary concert at a North Dakota Agricultural College dance at the Crystal Ballroom in Fargo, N.D., Nov. 7, 1940. Recorded on then-state-of-the-art equipment by Richard Burris and Jack Towers, the long-lost recording won a Grammy 40 years later for best jazz instrumental performance. Featuring Rex Stewart, Ray Nance (in his first Ellington concert), Lawrence Brown, Tricky Sam Nanton, Otto Hardwick, Johnny Hodges, Barney Bigard, Ben Webster, Jimmy Blanton, Sonny Greer. Includes The Mooche, Sepia Panorama, Ko-Ko, Pussy Willow, Chatter Box, Mood Indigo, Harlem Air-Shaft, Warm Valley, Stompy Jones, Chloe, Bojangles, You Took Advantage Of Me, Rumpus In Richmond, Sidewalks Of New York, The Flaming Sword. Cover erroneously credits Cootie Williams, who had just left the band and was replaced by Nance. Another cover error: "Fargo, N.C."
Duke Ellington & His Orchestra
1939-40 / 197? / Alamac QSR-2416
VG+ / NM / $15.00 BUY AT GREG'S GROOVES ON AMAZON MARKETPLACE
Featuring Barney Bigard, Jimmy Blanton, Lawrence Brown, Harry Carney, Johnny Hodges, Rex Stewart, Cootie Williams. Track list: Jazz Potpourri, Something To Live For, Old King Dooji, Pussy Willow, You Can Count On Me (featuring Ivie Anderson), Way Low, Grievin', Little Posey, The Gal From Joes, Tootin Through The Roof, Day In Day Out.
Duke Ellington
Pretty Woman / 1968 / RCA Victor LPV-553 mono
VG++ / VG++ / $20.00 BUY AT GREG'S GROOVES ON AMAZON MARKETPLACE
16 recordings from 1945-1946, including previously unreleased duets with Billy Strayhorn. Historical liner notes by Stanley Dance
Duke Ellington / Frank Sinatra (more Sinatra)

Francis A. & Edward K. / 1968 / Reprise FS 1024

VG++ / NM / $30.00

Original release. Slight foxing on back cover, vinyl like new
Duke Ellington
This Is Duke Ellington (2 LPs) / 1971 / RCA Victor VPM-6042
VG++ / VG+, VG+ / $15.00

Duke Ellington
Vol. II: The Early Years / 197? / Archive of Folk & Jazz FS-249
VG++ / NM / $14.00 BUY AT GREG'S GROOVES ON AMAZON MARKETPLACE
New York City recordings from October to December, 1946. The Beautiful Indians - Hiawatha, The Beautiful Indians - Minnehaha, Happy-Go-Lucky Local Parts 1 & 2, Flippant Flurry, Blue Skies, Magenta Haze, Golden Feather, Sultry Sunset, Diminuendo In Blue
Duke Ellington and Ella Fitzgerald
Ella At Duke's Place / 1966 / Verve V-4070 mono
VG++ / VG+ / $18.00

Produced by Norman Granz. Gatefold cover with complete personnel and notes by Leonard Feather
Duke Ellington / Count Basie
First Time - The Count Meets The Duke / 197? / Columbia CS 8515
NM / VG++ / $12.50

'70s reissue of 1962 classic