Home/order
If you found this page via Google or another search engine, CLICK HERE to enter our full-featured site
Emerson, Lake & Palmer original vinyl records
Listed by release date. Please e-mail for more details. Grading order is cover/vinyl. Grading standards & terms
Emerson, Lake & Palmer (see also The Nice)
Emerson, Lake & Palmer / 1971 / Cotillion SD 9040
VG woc / VG+ wol / $12.50 BUY AT GREG'S GROOVES ON AMAZON MARKETPLACE
Original U.S. release, Presswell pressing. Writing on front cover and side 1 label. Track list: The Barbarian, Take A Pebble, Knife-Edge, The Three Fates: Clotho, Lachesis, Atropos, Tank, Lucky Man.
Emerson, Lake & Palmer
Tarkus / 1971 / Cotillion SD 9900
VG++ / VG++ / $22.00

Original release, Monarch pressing, with gatefold cover and original Cotillion-Embryo inner sleeve. Track list: Tarkus (Eruption, Stones Of Years, Iconoclast, Mass, Manticore, Battlefield, Aquatarkus), Jeremy Bender, Bitches Crystal, The Only Way (Hymn), Infinite Space (Conclusion), A Time And A Place, Are You Ready Eddy?
Emerson, Lake & Palmer
Pictures At An Exhibition / 1972 / Cotillion ELP 66666
VG++ / VG+ / $17.00

Original U.S. issue. Live at Newcastle City Hall, March 26, 1971

Emerson, Lake & Palmer
Brain Salad Surgery / 1977 / Atlantic SD 19124
VG+ / VG / $14.00 BUY AT GREG'S GROOVES ON AMAZON MARKETPLACE
Reissue of Manticore 66669 from 1973, Presswell pressing. With unique, shaped fold-open cover designed by Fabio Nicoli with H.R. Giger painting, and VG 6-panel die-cut poster. Track list: Jerusalem, Toccata, Still....You Turn Me On, Benny The Bouncer, Karn Evil 9 (1st Impression - Part 1), Karn Evil 9 (1st Impression - Part 2), Karn Evil 9 (2nd Impression), Karn Evil 9 (3rd Impression).
Emerson, Lake & Palmer
Trilogy / 197? / Atlantic P-10113A
NM / NM / $35.00

Japanese release on quality vinyl. With lyric sheet in English and Japanese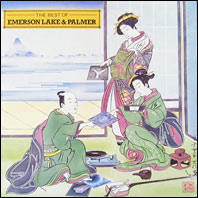 Emerson Lake & Palmer
The Best of Emerson Lake & Palmer / 1980 / Atlantic SD 19285
NM / VG++ / $22.00

Original release. Hoedown, Lucky Man, Karn Evil 9, Jerusalem, Peter Gunn, Fanfare For The Common Man, Still...You Turn Me On, Tiger In A Spotlight, Trilogy