Home/order
If you found this page via Google or another search engine, CLICK HERE to enter our full-featured site
The Everly Brothers

original vinyl records
Listed by release date. Please e-mail for more details. Grading order is cover/vinyl. Grading standards & terms
The Everly Brothers
A Date With The Everly Brothers / 1961 / Warner Bros WS 1395
VG+ / VG+ / $12.50 BUY AT GREG'S GROOVES ON AMAZON MARKETPLACE
2nd issue without gatefold cover. Includes Cathy's Clown, Love Hurts, Made To Love, That's Just Too Much, Stick With Me Baby, Baby What You Want Me To Do, Sigh Cry Almost Die, Always It's You, Lucille, So How Come, Donna Donna, A Change Of Heart
The Everly Brothers
A Date With The Everly Brothers / 1961 / Warner Bros W 1395 mono
VG++ / VG++ / $14.00
2nd issue without gatefold cover. Includes Cathy's Clown, Love Hurts, Made To Love, That's Just Too Much, Stick With Me Baby, Baby What You Want Me To Do, Sigh Cry Almost Die, Always It's You, Lucille, So How Come, Donna Donna, A Change Of Heart

The Everly Brothers
Both Sides Of An Evening / 1961 / Warner Bros W 1418 mono
VG+ / VG++ / $15.00 BUY AT GREG'S GROOVES ON AMAZON MARKETPLACE
Original release. Some water damage to cover, more evident on the back. Vinyl excellent. Track list: My Mammy, Muskrat, My Gal Sal, Grandfather's Clock, Bully Of The Town, Chlo-E, Mention My Name In Sheboygan, Hi-Lili, Hi-Lo, Wayward Wind, Don't Blame Me, Now Is The Hour, Little Old Lady,When I Grow Too Old To Dream, Love Is Where You Find It.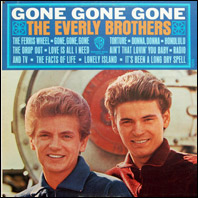 The Everly Brothers
Gone Gone Gone / 1965 / Warner Bros W 1585 mono
VG++ / VG++ / $24.00 BUY AT GREG'S GROOVES ON AMAZON MARKETPLACE
Original mono release, gray label. Front cover in frameable condition, back cover has moderate foxing, vinyl excellent. Track list: Donna Donna, Lonely Island, The Facts Of Life, Ain't That Lovin' You Baby, Love Is All I Need, Torture, The Dropout, Radio And TV, Honolulu, It's Been A Long Dry Spell, The Ferris Wheel, Gone Gone Gone.
The Everly Brothers
Historia De La Musica Rock / 1972 / RCA ECPL-3074
NM / NM / $15.00
Spanish release. Not the same familiar tracks on this compilation. Includes All We Really Want To Do, Mandolin Wind, Del Rio Dan, Ladies Love Outlaws, Three-Armed Poker Playin', River Rat, Stories We Could Tell, Up In Mabel's Room, Ridin' High, Good Hearted Woman, A Nickel For The Fiddler, Somebody Nobody Knows, Woman Don't Try To Tie Me Down
Everly Brothers
The Everly Brothers Greatest Hits Vol. 1 / 1977 / Barnaby BR-4004
VG++ / VG++ / $14.00
Bye Bye Love, That Silver Haired Daddy Of Mine, Poor Jenny, Maybe Tomorrow, This Little Girl Of Mine, Claudette, Oh What A Feeling, Be-Bop-A-Lula, Devoted To You, (Till) I Kissed You
Everly Brothers
Home Again / 1985 / RCA Victor AFL1-5401
VG++ co / NM / $14.00
Vinyl appears unplayed. Small cutout notch in cover. Recordings from 1969 to 1973, including previously unreleased tracks: Poems Prayers & Promises and Maiden's Prayer