Home/order
If you found this page via Google or another search engine, CLICK HERE to enter our full-featured site
Burl Ives original vinyl records
Listed by release date. Please e-mail for more details. Grading order is cover/vinyl. Grading standards & terms

Burl Ives
Ballads And Folk Songs, Volume II (10-inch LP) / 1949 / Decca 5013 mono
VG+ / VG+ / $16.00 BUY AT GREG'S GROOVES ON AMAZON MARKETPLACE
Original 10-inch release. 2-inch seam split on bottom of cover. One of American Folk Music Series edited by Alan Lomax. Track list: Turtle Dove, The Devil's Nine Questions, No Wood Fire, Ten Thousand Miles, My Good Old Man, Po' Boy, I'm Sad And I'm Lonely, Down In The Valley, Cowboy's Lament.
Burl Ives (more Folk music)
Folk Songs Dramatic And Humorous (10-inch LP) / 1953 / Decca DL 5467 mono
VG++ / VG+ / $35.00
Get Along Little Dogies, From Here On Up The Hills Don't Get Any Higher, The Golden Vanity, Hush Little Baby - Tibby Dunbar, I Know An Old Lady, Goober Peas, Old Bangham, Killigrew's Soiree, I Wonder As I Wander

Burl Ives
Women - Folk Songs About The Fair Sex (10-inch LP) / 1953 / Decca DL 5490 mono
VG++ / VG++ / $20.00 BUY AT GREG'S GROOVES ON AMAZON MARKETPLACE
Original 10-inch release in fine shape. Nellie McNess, The Woman And The Chivalrous Shark, Molly Malone, The Wealthy Old Maid, Liza Jane, Devilish Mary, My Pretty Little Miss, Barbara Allen.
Burl Ives
The Wayfaring Stranger / 1955 / Columbia CL 628 mono
VG++ / VG / $15.00

Original 12-inch release. Leather-Winged Bat, Cotton-Eyed Joe, Sweet Betsy From Pike, On Top Of Old Smoky, I Know Where I'm Going, I Know My Love, Cowboy's Lament, Wee Cooper O'Fife, Riddle Song, Tam Pierce, Peter Gray, Darlin' Cory, John Hardy, Colorado Trail, Roving Gambler, Bonnie Wee Lassie, The Divil And The Farmer, On Springfield Mountain, Little Mohee, Troubador Song, Robin He Married, Lavender Cowboy, Green Broom, High Barbareee, I've Got No Use For Women, Old Paint
Burl Ives
Ballads / 1959 / United Artists UAL 3060 mono
VG+ wobc / VG++ / $18.00 BUY AT GREG'S GROOVES ON AMAZON MARKETPLACE
Go 'Way From My Window, Two Maidens Went Milking, Willie Boy, Irish Rover, Croodin' Doo, Turkish Revery, Wanderin', Ladies Man, Henry Martin, How Could You Use A Poor Maiden So, Pueblo Girl, Lily Munro, Hypochondriac Song, Pirate Song. Small writing and rubber stamp on back cover
Burl Ives
Return Of The Wayfaring Stranger / 1960 / Columbia CL 1459 mono
VG / VG+ / $15.00

Original issue, "6-eye" label. Top cover seam split, cover spine partially frayed. John Henry, Billy The Kid, Fare Thee Well O Honey, Mah Lindy Lou, Mukle Train, The Worried Man Blue, Greer County Bachelor, Lilly Munroe, Old Blue / Ballanderie, Lord Randall, Riders In The Sky, Wayfaring Stranger/Woolie Boogie Bee
Burl Ives
Burl's Choice / 1966 / Decca DL 4734 mono
VG+ / VG+ / $18.00

White Label Promo. The artist discusses each song in the liner notes. Girl Sittin' Up In A Tree, Frangipani, Salt Water Guitar, Down In The Okefenokee, Mr. Make Up Man, River Boy, (I Hear You) Call My Name, Someone Hangin' 'Round You All The Time, Betsy The Cow, A Hundred And Twenty Miles From Nowhere, The Story Of Bobby Lee Trent, Can Angels Fly Over The Rockies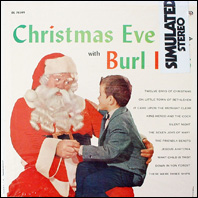 Burl Ives (more Christmas albums) (more Sealed albums)
Christmas Eve With Burl Ives / 196? / Decca DL 78391
Sealed co / $35.00

Small hole in corner of cover and "Simulated Stereo" sticker on cover. Twelve Days Of Christmas, O Little Town Of Bethlehem, It Came Upon A Midnight Clear, King Herod And The Cock, Silent Night, The Seven Joys Of Mary, The Friendly Beasts, Jesous Ahatonia, What Child Is This, Down In Yon Forest, There Were Three Ships.
Burl Ives (more Sealed albums)
Got The World By The Tail / 196? / Harmony HS 11275
Sealed / $20.00

Factory-sealed with just a hint of moisture damage on cover. Riders In The Sky, Old Blue, John Henry, Mule Train, On Top Of Old Smoky, Pretty Polly, Pueblo Girl, Got The World By The Tail, Mah Lindy Lou
Burl Ives
My Gal Sal / 1965 / Decca DL-4606 mono
NM is / VG+ / $15.00 BUY AT GREG'S GROOVES ON AMAZON MARKETPLACE
With My Gal Sal, Jealous, Red Sails In The Sunset, My Melancholy Baby, How Deep Is The Ocean, You Know You Belong To Somebody Else, For Me And My Gal, Tell Me (Tell Me Why), Oh How I Miss You Tonight, By The Light Of The Silvery Moon, Among My Souvenirs, Make Believe
Burl Ives (more Sealed albums)
The Times They Are A-Changin' / 1969 / Columbia CS 9675
Sealed / $50.00

Original release. One corner of cover slightly creased, otherwise perfect. I'll Be Your Baby Tonight, By The Time I Get To Phoenix, Gentle On My Mind, Little Green Apples, Don't Think Twice It's Alright, One Too Many Mornings, Maria (If I Could), If Were A Carpenter, Homeward Bound, Folk Singer, The Times They Are A-Changin'
Burl Ives (more Sealed albums)
Time / 1971 / Bell 6055
Sealed / $30.00 $20.00 BUY AT GREG'S GROOVES ON AMAZON MARKETPLACE
Original release, factory-sealed. Time, Real Roses, Raindrops Keep Falling On My Head, Another Day Another Year, Snowbird, Roll Up Some Inspiration, Galisteo, Comin' After Jinny, Tied Down Here At Home, One More Time Billy Brown. Liner notes by Harvey Geller
Burl Ives
Burl Ives' Greatest Hits! / 1973 / MCA 114
VG+ / VG+ / $10.00
Reissue of Decca 74850. A Little Bitty Tear, True Love Goes On And On, Call Me Mr. In Between, Cool Water, Foggy Foggy Dew, Goober Peas, Pearly Shells (Popo O Ewa), Funny Way Of Laughin', This Is All I Ask, My Gal Sal, That's My Heart Strings, Blue Tail Fly

Home/order