Home/order
If you found this page via Google or another search engine, CLICK HERE to enter our full-featured site
Billy Joel original vinyl records
Listed by release date. Please e-mail for more details. Grading order is cover/vinyl. Grading standards & terms
Billy Joel
Cold Spring Harbor / 1971 / Family Productions FPS-2700
NM / VG++ / $30.00

Original release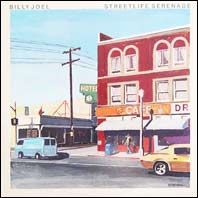 Billy Joel
Streetlife Serenade / 1975 / Columbia PC 33146
NM / VG++ / $11.00
Original release, no barcode on cover

Billy Joel
Streetlife Serenade / 1975 / Columbia PC 33146
VG++ / VG+ / $9.00
Original release, no barcode on cover
Billy Joel
Piano Man / 1976 / Columbia PC 32544
VG++ / VG+ / $12.50

2nd issue, no barcode on cover. Custom inner sleeve with credits
Billy Joel
Turnstiles / 1976 / Columbia PC 33848
VG+ / NM / $10.00
Custom inner sleeve with lyrics
Billy Joel
The Stranger / 1977 / Columbia JC 34987
VG+ / VG+ / $8.00

Movin' Out (Anthony's Song), The Stranger, Just The Way You Are, Scenes From An Italian Restaurant, Vienna, Only The Good Die Young, She's Always A Woman, Get It Right The First Time, Everybody Has A Dream. Custom inner sleeve with lyrics
Billy Joel
52nd Street / 1978 / Columbia FC 35609
NM is / VG+ / $9.00
Custom inner sleeve with band photos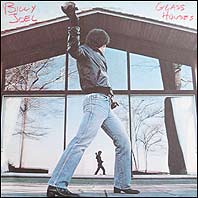 Billy Joel
Glass Houses / 1980 / Columbia FC 36384
VG++ / VG++ / $10.00

You May Be Right, Sometimes A Fantasy, Don't Ask Me Why, It's Still Rock And Roll To Me, All For Leyna, I Don't Want To Be Alone, Sleeping With The Television On, C'etait Toi (You Were The One), Clost To The Borderline, Through The Long Night. Custom inner sleeve with lyrics & credits
Billy Joel
Songs From The Attic / 1981 / Columbia TC-37461
NM / NM / $11.00
Gatefold cover with liner notes by Joel
Billy Joel
She's Got A Way / The Ballad Of Billy The Kid (7-inch 45, PS) / 1981 / Columbia 18-02628
VG++ / NM / $5.00
From "Songs In The Attic"
Billy Joel
An Innocent Man / 1983 / Columbia QC 38837
VG++ / NM / $10.00
Custom inner sleeve with lyrics & credits
Billy Joel
Greatest Hits Volume I & Volume II (2 LPs) / 1985 / Columbia C2 40121
VG++ / NM, NM / $15.00

Piano Man, Say Goodbye To Hollywood, New York State Of Mind, The Stranger, Just The way You Are, Movin' Out (Anthony's Song), Only The Good Die Young, She's Always A Woman, My Life, Big Shot, You May Be right, It's Still Rock And Roll To Me, Don't Ask Me Why, Pressure, Allentown, Goodnight Saigon, Tell Her About It, Uptown Girl, The Longest Time, You're Only Human (Second Wind), The Night Is Still Young
Billy Joel (more Sealed albums)
The Bridge / 1986 / Columbia OC-40402
Sealed / $25.00

Running On Ice, This Is The Time, A Matter Of Trust, Modern Woman, Baby Grand, Big Man On Mulberry Street, Temptation, Code Of Silence, Getting Closer. Produced by Phil Ramone
Billy Joel
Kohuept (Concert) (2 LPs) / 1987 / Columbia C2X40996
VG++ / VG+, VG++ / $15.00 BUY AT GREG'S GROOVES ON AMAZON MARKETPLACE
From his tour of the USSR. Gatefold cover and original inner sleeves. Very small tear on back cover.