Home/order
If you found this page via Google or another search engine, CLICK HERE to enter our full-featured site
The Kinks - original vinyl records
Listed by release date. Please e-mail for more details. Grading order is cover/vinyl. Grading standards & terms
The Kinks
Kinks-Size / 1965 / Reprise R-6158 mono
VG / VG / $20.00 $16.00 BUY AT GREG'S GROOVES ON AMAZON MARKETPLACE
Rare mono original. Top cover seam split and neatly taped, writing in several places on back cover. Tired Of Waiting For You, Louie Louie, I've Got That Feeling, Revenge, I Gotta Move, Things Are Getting Better, I Gotta Go Now, I'm A Lover Not A Fighter, Come On Now, All Day And All Of The Night.
The Kinks
Kinks Kinkdom / 1965 / Reprise R-6184 mono
VG+ / VG / $30.00

Rare mono original. "A Well-Respected Man", "See My Friends", "Who'll Be The Next In Line" ... Some distortion due to wear on last tracks of each side
The Kinks
The Kink Kontroversy / 1966 / Reprise R 6197 mono
VG++ / VG+ / $50.00

Rare original mono release, tricolor label.
The Kinks
Kinda Kinks / 1969 / Marble Arch MALS 1100
VG+ / VG++ / $25.00

Canadian release of 1965 album. Slight ring wear on cover, otherwise excellent. With their big hit Tired Of Waiting, plus Look For Me Baby, Got My Feet On The Ground, Nothin' In The World Can Stop Me Worryin' About That Girl, Naggin' Woman, Wonder Where My Baby Is, Dancing In The Street, Don't Ever Change, Come On Now, So Long, You Shouldn't Be Sad, Something Better Beginning
The Kinks
Kinks Greatest Hits / 196? / Marble Arch MALS-1403
VG++ / NM / $25.00

Canadian release. With "A Well Respected Man," "Tired Of Waiting For You," "You Really Got Me," "All Day And All Of The Night," "Set Me Free," "Till The End Of The Day," "Lola," "Where Have All The Good Times Gone," "I Gotta Move," "Wait Till The Summer Comes Along"

The Kinks
Arthur, Or The Decline And Fall Of The British Empire / 197? / Reprise RS 6399
VG+ / VG+ / $45.00 BUY AT GREG'S GROOVES ON AMAZON MARKETPLACE
Early issue of a classic. Track list: Victoria, Yes Sir No Sir, Some Mother's Son, Drivin', Brainwashed, Australia, Shangri-La, Mr. Churchill Says, She's Bought A Hat Like Princess Marina, Young And Innocent Days, Nothing To Say, Arthur.
The Kinks
Lola Versus Powerman And The Moneygoround Part One / 1970 / Reprise RS 6423
VG+ / VG+ / $20.00

Gatefold cover with lyrics. Cover blurb promotes Lola and Apeman. A little sticker residue on cover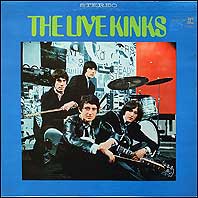 The Kinks
The Live Kinks / 1971 / Reprise RS-6260
NM / VG++ / $25.00

2nd issue, tan label
The Kinks
Preservation Act I / 1973 / RCA LPL1-5002
VG+ / VG++ / $20.00

Original release. Morning Song, Daylight, Sweet Lady Genevieve, There's A Change In The Weather, Where Are They Now, One Of The Survivors, Cricket, Money & Corruption/I Am Your Man, Here Comes Flash, Sitting In The Midday Sun, Demolition. Cover slightly creased
The Kinks
Muswell Hillbillies / 1971 / RCA Victor LSP-4644
VG+ / VG+ / $25.00

Rare original release, gatefold cover with lyrics
The Kinks
The Kink Kronikles (2 LPs) / 1972 / Reprise 2XS 6454
VG++ / NM, NM / $45.00

Victoria, The Village Green Preservation Society, This Is Where I Belong, Holiday In Waikiki, Polly, Waterloo Sunset, David Watts, Lola, Dead End Street, Shangri-la, Autumn Almanac, Sunny Afternoon, Get Back In Line, Did You See His Name?, Fancy, Mindless Child Of Motherhood, Death Of A Clown, God's Children, King Kong, Berkeley Mews, Apeman, Big Black Smoke, Days, Susannah's Still Alive, Willesden Green, Wonderboy, Mr. Pleasant, She's Got Everything
The Kinks
Everybody's In Show-Biz (2 LPs) / 197? / RCA Victor VPS-6065
VG++ / NM, NM / $28.00

Early issue with black labels. Vinyl like new. Studio recordings of Here Comes Yet Another Day, Maximum Consumption, Unreal Reality, Hot Potatoes, Sitting In My Hotel, Motorway, You Don't Know My Name, Supersonic Rocket Ship, Look A Little On The Sunny Side, Celluloid Heroes, plus live recordings of Top Of The Pops, Brainwashed, Mr. Wonderful, Acute Schizophrenia Paranoia Blues, Holiday, Muswell Hillbilly, Alcohol, Banana Boat Song, Skin And Bone, Baby Face, Lola.
The Kinks
Soap Opera / 1980 / RCA Victor AYL1-3750
VG+ / NM / $15.00 BUY AT GREG'S GROOVES ON AMAZON MARKETPLACE
"Best Buy Series" reissue. Everybody's A Star (Starmaker), Ordinary People, Rush Hour Blues, Nine To Five, When Work Is Over, Have Another Drink, Underneath The Neon Sign, Holiday Romance, You Make It All Worthwhile, Ducks On The Wall, (A) Face In The Crowd, You Can't Stop The Music
The Kinks
Schoolboys In Disgrace / 1975 / RCA Victor LPL1-5102
VG+ / NM / $18.00

Original release. Custom inner sleeve with lyrics
The Kinks
One For The Road (2 LPs) / 1980 / Arista A2L-8401
VG++ / VG++, VG++ / $18.00

Gatefold cover. Live in Massachusetts, New York, New Jersey, Rhode Island and Zurich, Switzerland
The Kinks
Give The People What They Want / 1981 / Arista AL8-8037
VG++ / VG++ / $15.00

The Kinks
Come Dancing With The Kinks (2 LPs) / 1986 / Arista AL11-8428
VG++ / VG++, VG++ / $20.00

You Really Got Me (live), Destroyer, (Wish I Could Fly Like) Superman, Juke Box Music, A Rock 'N' Roll Fantasy, Come Dancing, Sleepwalker, Catch Me Now I'm Falling, Do It Again, Better Things, Lola (live), Low Budget, Long Distance, Heart Of Gold, Don't Forget To Dance, Misfits, Living On A Thin Line, Father Christmas, Celluloid Heroes (live)
The Kinks (more Sealed albums)
UK Jive / 1989 / MCA 6337
Sealed co / $75.00

Sticker on cover promotes "The World's Premiere Rock 'n' Roll Band featuring the new hits How Do I Get Close, Aggravation, Entertainment." 3/4 inch sawmark in cover