Home/order
If you found this page via Google or another search engine, CLICK HERE to enter our full-featured site

Loretta Lynn original vinyl records
Listed by release date. Please e-mail for more details. Grading order is cover/vinyl. Grading standards & terms

Loretta Lynn And Friends (more Christmas albums)
A Country Christmas / 197? / MCA Special Products 34979
VG++ / VG+ / $20.00 BUY AT GREG'S GROOVES ON AMAZON MARKETPLACE
Side 1 features Lynn singing Away In A Manger, Silver Bells, Blue Christmas, It Won't Seem Like Christmas; side 2 has Burl Ives (O Little Town Of Bethlehem), Brenda Lee (Frosty The Snowman), Ernest Tubb (Rudolph The Red Nosed Reindeer), Bill Anderson (Medley: Joy To The World / Hark The Herald Angels Sing / O Come All Ye Faithful) and The Voices Of Christmas (The First Noel).
Loretta Lynn
Lead Me On / 1971 / MCA DL 75326
VG++ / NM / $15.00
Loretta Lynn
Entertainer Of The Year - Loretta / 1973 / MCA 300
VG+ / NM / $16.00

With "Rated X"
Loretta Lynn
They Don't Make 'Em Like My Daddy / 1974 / MCA 444
VG+ / VG++ / $15.00

Includes "Trouble In Paradise"
Loretta Lynn
I Remember Patsy / 1976 / MCA 2265
VG++ / NM / $18.00

Loretta's tribute to Patsy Cline, with She's Got You, Walking After Midnight, Why Can't He Be You, Faded Love, I Fall To Pieces, Crazy, Sweet Dreams, Back In Baby's Arms, Leavin' On Your Mind, I Remember Patsy (a conversation between Loretta and producer Owen Bradley). Liner notes by the artist.
Loretta Lynn
I Wanna Be Free / 197? / MCA MAPS-4870
VG++ / VG++ / $15.00

German release. I Wanna Be Free, Help Me Make It Through The Night, See That Mountain, When You Leave My World, Put Your Hand In The Hand, If I Never Love Again (It'll Be Too Soon), Me And Bobby McGee, When You're Poor, Rose Garden, Drive You Out Of My Mind, I'm One Man's Woman
Loretta Lynn
Back To The Country / 1975 / MCA 471
VG++ / VG++ / $16.00
With "The Pill"
Loretta Lynn
Out Of My Head And Back In My Bed / 1978 / MCA 2330
VG++ / NM / $16.00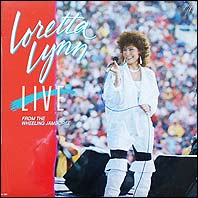 Loretta Lynn (more Collectibles) (more Country)
Live From The Wheeling Jamboree / 1986 / Loretta Lynn Enterprises LL-1002
Sealed / $75.00

Very rare private pressing, recorded at the 1985 Jamboree in Wheeling, West Virginia
Loretta Lynn & Conway Twitty
Feelins' / 1975 / MCA 2143
NM / NM / $20.00

Original release. Includes Feelins', Dyn-O-Mite, Back Home Again, I'll Never Get Tired (Of Saying I Love You), Little Boy Love, She's About A Mover, Let Me Be There, You Done Lost Your Baby, Store Up Love, Some Kind Of A Woman