Home/order
If you found this page via Google or another search engine, CLICK HERE to enter our full-featured site


Bob Marley & The Wailers original vinyl records
Listed by release date. Please e-mail for more details. Grading order is cover/vinyl. Grading standards & terms
Bob Marley & The Wailers (more Reggae)
Natty Dread / 1975 / Island ILPS 9281
VG++ / NM / $35.00

Early U.S. issue, distributed by Island Records, with custom labels showing Marley and inner sleeve with lyrics. Lively Up Yourself, No Woman, No Cry, Them Belly Full (But We Hungry), Rebel Music (3 O'Clock Roadblock), So Jah Seh, Natty Dread, Bend Down Low, Talkin' Blues, Revolution.
Bob Marley & The Wailers
Live! / 1975 / Island ILPS 9376
VG++ co / VG+ / $33.00

Original release, Island distribution. Tiny notch in cover. With original inner sleeve promoting other Island titles. Live at the London Lyceum, July 18, 1975.
Bob Marley & The Wailers
Rastaman Vibration / 1978 / Island ILPS 9383
VG++ / VG+ / $28.00

2nd issue, Warner Bros. distribution. Positive Vibration, Roots Rock Reggae, Johnny Was, Cry To Me, Want More, Crazy Baldhead, Who The Cap Fit, Night Shift, War, Rat Race. Gatefold cover with lyrics

The Wailers
Burnin' / 1981 / Island ILPS 9256
VG++ / VG++ / $40.00 BUY AT GREG'S GROOVES ON AMAZON MARKETPLACE
'81 reissue, light blue labels, gatefold cover, Winchester pressing. "Includes the original version of I Shot The Sheriff" printed on cover. No barcode on cover. Track list: Get Up Stand Up, Hallelujah Time, I Shot The Sheriff, Burnin' And Lootin', Put It On, Small Axe, Pass It On, Duppy Conqueror, One Foundation, Rasta Man Chant.
Bob Marley & The Wailers
Catch A Fire / 2015 / Tuff Gong 600753600689
NM is / NM / $50.00 BUY AT GREG'S GROOVES ON AMAZON MARKETPLACE
180g remastered reissue, Dutch pressing. Concrete Jungle, Slave Driver, 400 Years, Stop That Train, Baby We've Got A Date (Rock It Baby), Stir It Up, Kinky Reggae, No More Trouble, Midnight Ravers. Does not include download code.
Bob Marley & The Wailers
Rasta Revolution / 198? / Trojan TRLS 89
NM / VG++ / $20.00

U.K. release, reissue. No barcode on cover. Repackaging of 1970's Soul Rebels, pressed on heavy vinyl. Mr. Brown, Soul Rebel, Try Me, It's Alright, No Sympathy, My Cup, Duppy Conqueror, Rebel's Hop, Corner Stone, 400 Years, No Water, Reaction, Soul Almighty

Bob Marley & The Wailers
The Birth Of A Legend / 1976 / Calla 2 CAS-1240
VG sps co / VG+, VG++ / $88.00 BUY AT GREG'S GROOVES ON AMAZON MARKETPLACE
Early issue, green and red Calla labels with Shakti Records in perimeter print. Featuring Peter Tosh. Twenty Wailers tracks recorded from 1964-1966, including the hard-to-find Donna, plus I Made A Mistake, One Love, Let Him Go, Love And Affection, Simmer Down, Maga Dog, I Am Going Home,Nobody Knows, Lonesome Feeling, Wings Of A Dove, It Hurts To Be Alone, I'm Still Waiting, Who Feels It Knows It, Do You Remember, Dancing Shoes, I Don't Need Your Love, Lonesome Track, Do You Feel The Same Way, Ten Commandments Of Love.
Bob Marley & The Wailers
Exodus / 1977 / Island ILPS-9498
VG+ / VG+ / $30.00

Original release, Island distribution. Custom inner sleeve with credits. Natural Mystic, So Much Things To Say, Guiltiness, The Heathen, Exodus, Jamming, Waiting In Vain, Turn Your Lights Down Low, Three Little Birds, One Love / People Get Ready
Bob Marley & The Wailers
Survival / 1979 / ILPS 9542
VG+ / VG+ / $24.00

Custom inner sleeve with lyrics. Lyrics sleeve is torn
Bob Marley & The Wailers
Babylon By Bus (2 LPs) / 1979 / Island ISLD 11
VG+ / VG, VG+ / $28.00

2nd issue, Warner Bros distribution. Live from their world tour. With "bus window" cover and custom inner sleeves
Bob Marley & The Wailers
Uprising / 1980 / Island ILPS 9596
VG++ / VG++ / $30.00

Original release
Bob Marley & The Wailers
Kaya / 1983 / Island 90035-1
VG++ / VG++ / $20.00

Reissue
Bob Marley And The Wailers
In The Beginning / 1983 / Trojan TRLS 221
VG++ / NM / $25.00

U.K. release. Recordings from 1967-1973
Bob Marley & The Wailers
Confrontation / 1983 / Island 90085-1
NM / NM / $33.00

Original release
Bob Marley
Greatest Hits Of Bob Marley / 198? / Babylon B 80015
VG++ / NM / $28.00

German export pressing on quality vinyl. Lively Up Yourself, Small Axe, Kaya, Sun Is Shining, Mr. Brown, Keep On Moving, All In One, African Herbsman, Brain Washing, Do It Twice, Duppy Conqueror V/4, Stand Alone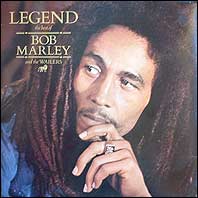 Bob Marley & The Wailers (more Marley) (more Reggae)
Legend - The Best Of Bob Marley And The Wailers / 1984 / Island R-153521
VG++ / VG++ / $30.00

Rare RCA Music Service edition. Is This Love, No Woman No Cry, Could You Be Loved, Three Little Birds, Buffalo Soldier, Get Up Stand Up, Stir It Up, One Love/People Get Ready, I Shot The Sheriff, Waiting In Vain, Redemption Song, Satisfy My Soul, Exodus, Jamming
Bob Marley & The Wailers
Rebel Music / 1986 / Island 90520-1
VG++ / NM / $25.00

Original release