Home/order
If you found this page via Google or another search engine, CLICK HERE to enter our full-featured site
Miles Davis original vinyl records

Listed by release date. Please e-mail for more details. Grading order is cover/vinyl. Grading standards & terms
Miles Davis
'Round About Midnight / 1957 / Columbia CL 949 mono
VG+ / VG / $35.00

Rare original, "6-eye" label. Frameable cover. Audible scratches in places, and sticks during bass solo on "Dear Old Stockholm." With John Coltrane, Red Garland, Paul Chambers, Philly Joe Jones
Miles Davis
Bags Groove / 1957 / Prestige 7109
VG / VG+ / $50.00

Rare 1957 issue, yellow label with Bergenfeld, NJ address on label. With Sonny Rollins, Milt Jackson, Thelonious Monk, Horace Silver, Percy Heath, Kenny Clarke. Moisture damage on bottom of cover
Miles Davis
Seven Steps To Heaven / 1963 / Columbia CS 8851
VG+ / VG+ / $35.00

Original release, "360 Stereo" in black on label
Miles Davis
Miles Davis In Europe / 1964 / Columbia CL 2183 mono
VG+ wobc / NM / $35.00

Original mono release, "Guaranteed High Fidelity" on label. Live at the Antibes Jazz Festival, Juan-Les-Pins, France, 1963. Personnel hand-written on back cover. With George Coleman, Herbie Hancock, Ron Carter, Tony Williams. Introduction, Autumn Leaves, Milestones, Joshua, All Of You, Walkin'
Miles Davis
Quiet Nights / 1965 / Columbia CL 2106 mono
VG co / VG+ / $25.00

2nd issue, "360 Sound Mono" in white on label. Punch hole in corner of cover, ringwear on cover. Arranged and conducted by Gil Evans
Miles Davis
In A Silent Way / 1969 / Columbia CS 9875
VG / VG++ / $30.00

Original release, "360 Sound Stereo" label. With Herbie Hancock, Chick Corea, Wayne Shorter, Joe Zawinul, John McLaughlin, Dave Holland, Tony Williams. Ringwear on front cover and some staining on back cover; vinyl excellent

COVER SIMILAR TO ABOVE
Miles Davis
Bitches Brew (2 LPs) / 1970 / Columbia GP 26
VG++ / NM, NM / $95.00

2nd U.S. pressing, red labels with gold print. Vinyl in superior condition.

Miles Davis
Miles Davis At Fillmore (2 LPs) / 1970 / Columbia G 30038
VG++ / NM, NM / $50.00 BUY AT GREG'S GROOVES ON AMAZON MARKETPLACE
Original release in fine condition. Recorded live at the Fillmore East in New York, June 17-20, 1970.
Miles Davis
Tune Up (2 LPs) / 1977 / Prestige P-24077
VG++ / VG++, VG++ / $35.00

Prestige yellow label. Early 1950s tracks including original versions of some of his greatest compositions. With Art Blakey, Kenny Clarke, Percy Heath, Milt Jackson, J.J. Johnson, John Lewis, Thelonious Monk, Max Roach, Sonny Rollins, Dave Schildkraut, Horace Silver, Lucky Thompson. Track list: When Lights Are Low, Tune Up, Four, That Old Devil Moon, Solar, You Don't Know What Love Is, Love Me Or Leave Me, I'll Remember April, Walkin', Blue 'n' Boogie, But Not For Me (Take 2), Bags' Groove (Take 2), The Man I Love (Take 2). Gatefold cover with extensive liner notes by Conrad Silvert.
Miles Davis
Sketches Of Spain / 197? / Columbia PC 8271
VG++ / VG+ / $30.00

'70s reissue. Concierto de Aranjuez, Will O' The Wisp, The Pan Piper, Saeta, Solea. Arranged & conducted by Gil Evans
Miles Davis
My Old Flame / 197? / Upfront UPF-171
VG++ / VG++ / $20.00

Miles Davis / Tadd Dameron Quintet
In Paris Festival International de Jazz, 1949 / 1977 / Columbia PC 34804 mono
VG+ woc / VG++ / $25.00

Canadian issue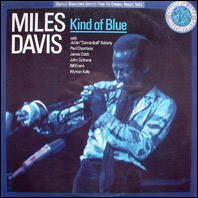 Miles Davis
Kind Of Blue / 1987 / Columbia CJ 40579
VG++ / NM / $35.00

Reissue, Columbia Jazz Masterpieces series. Digitally remastered from original analog tapes
Miles Davis
Porgy And Bess / 197? / Columbia CS 8085
VG++ / VG+ / $28.00

Early '70s issue. Orchestra directed by Gil Evans. Notes by Charles Edward Smith
Miles Davis
Miles Davis In Person - Saturday Night At The Blackhawk In San Francisco Volume II / 197? / Columbia LE 10076
VG+ / VG+ / $25.00

Columbia "Limited Edition" reissue. Ringwear on cover
Miles Davis
Miles Davis In Europe / 1977 / Columbia PC 8983
VG++ / VG++ / $30.00

Reissue. Live at the Antibes Jazz Festival, Juan-Les-Pins, France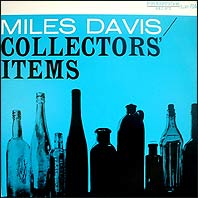 Miles Davis
Collectors' Items / 198? / Prestige OJC-071
NM / NM / $30.00

Reissue of January 1953 recordings with Sonny Rollins on "Charlie Chan," with Walter Bishop, Percy Heath, Philly Joe Jones on "Compulsion" "The Serpent's Tooth" and " 'Round About Midnight." Also March 1956 recordings with Rollins, Tommy Flanagan, Paul Chambers and Art Taylor
Miles Davis
Decoy / 1984 / Columbia FC 38991
NM / NM / $35.00

Gatefold cover with drawings by the artist. Decoy, Robot 415, Code M.D., Freaky Deaky, What It Is, That's Right, That's What Happened