If you found this page via Google or another search engine, CLICK HERE to enter our full-featured site

Harry Nilsson original vinyl records

Listed by release date. Please e-mail for more details. Grading order is cover/vinyl. Grading standards & terms
See also Popeye soundtrack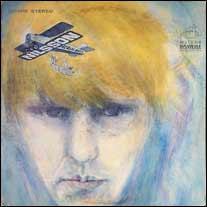 Nilsson (Harry Nilsson)
Aerial Ballet / 1969 / RCA Victor LSP-3956
NM / VG / $15.00 BUY AT GREG'S GROOVES ON AMAZON MARKETPLACE
2nd issue, orange label. Track list: Good Old Desk, Don't Leave Me, Mr. Richland's Favorite Song, Little Cowboy, Together, Everboydy's Talkin', I Said Goodbye To Me, Little Cowboy, Mr. Tinker, One, The Wailing Of The Willow, Bath. Cover art by Dick Hendler.
Nilsson
Harry / 1969 / RCA Victor LSP-4197
VG++ / VG++ / $30.00

Original release, gatefold cover with lyrics. The Puppy Song, Nobody Cares About The Railroads Anymore, Open Your Window, Mother Nature's Son, Fairfax Rag, City Life, Mournin' Glory Story, Maybe, Marchin' Down Broadway, I Guess The Lord Must Be In New York City, Rainmaker, Mr. Bojangles, Simon Smith And The Amazing Dancing Bear
Nilsson
The Point (TV soundtrack) / 1970 / RCA Victor LSPX-1003
VG+ / VG++ / $16.00

Original release, gatefold cover. Nilsson's classic tale of Oblio and the Pointed Forest. Includes "Me And My Arrow," "Think About Your Troubles," "Are You Sleeping". With picture book in NM condition.
Nilsson
The Point (TV soundtrack) / 1971 / RCA Victor AYL1-3811
VG+ / NM / $14.00
Reissue of Nilsson's classic tale of Oblio and the Pointed Forest. Includes "Me And My Arrow," "Think About Your Troubles," "Are You Sleeping". Does not include storybook
Harry Nilsson
Nilsson Schmilsson / 1971 / RCA Victor LSP-4515
VG+ / VG++ / $14.00

Original release. Some of his finest work, with gems like "Gotta Get Up," "Driving Along," "Early In The Morning," "The Moonbeam Song," "Down," "Without You," "Coconut," "Let The Good Times Roll" ... poster insert included
Nilsson
Aerial Pandemonium Ballet / 1971 / RCA Victor LSP-4543
VG+ / VG+ / $12.50
Nilsson (Harry Nilsson)
Nilsson Sings Newman / 197? / RCA Victor APL-1-0203
VG+ / VG+ / $12.00

Second issue, orange label, flexible vinyl. Randy Newman accompanies Nilsson on piano on Vine St., Love Story, Yellow Man, Caroline, Cowboy, The Beehive State, I'll Be Home, Living Without You, Dayton Ohio 1903, So Long Dad
Harry Nilsson
A Little Touch of Schmilsson in the Night / 1973 / RCA Victor APL1-0097
VG++ / NM / $18.00
Original release. Nilsson stands with the greats in his renditions of Lazy Mood, For Me And My Gal, It Had To Be You, Always, Makin' Whoopee!, You Made Me Love You, Lullaby In Ragtime, I Wonder Who's Kissing Her Now, What'll I Do?, Nevertheless (I'm In Love With You), This All I Ask, As Time Goes By. Has original inner sleeve advertising Nilsson's favorite causes
Harry Nilsson
A Little Touch of Schmilsson in the Night / 1973 / RCA Victor APL1-0097
VG++ / VG++ / $14.00
Original release. Nilsson stands with the greats in his renditions of Lazy Mood, For Me And My Gal, It Had To Be You, Always, Makin' Whoopee!, You Made Me Love You, Lullaby In Ragtime, I Wonder Who's Kissing Her Now, What'll I Do?, Nevertheless (I'm In Love With You), This All I Ask, As Time Goes By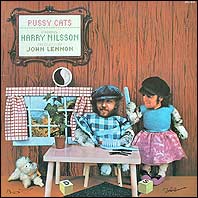 Harry Nilsson
Pussy Cats / 1974 / RCA Victor CPL-1-0570
NM / VG++ / $35.00

Original release. Produced by John Lennon. Gatefold cover with lyrics, photos and notes by longtime Beatles associate Derek Taylor. With original "Bucky Fuller" inner sleeve

COVER SIMILAR TO ABOVE
Harry Nilsson
Duit On Mon Dei / 1975 / RCA Victor APL1-0817
VG+ / NM / $16.00

Original release. With Van Dyke Parks, Ringo Starr Dr. John, Bud Shank, Doug Dillard ... Jesus Christ You're Tall, It's A Jungle Out There, Down By The Sea, Kojak Columbo, Easier For Me, Turn Out The Light, Salmon Falls, Puget Sound, What's Your Sign, Home, Good For God. 1/4-inch cutout notch in cover. Sticker on back cover with production credits
Harry Nilsson
Knnillssonn / 1977 / RCA Victor AFL1-2276
VG / VG+ / $15.00 BUY AT GREG'S GROOVES ON AMAZON MARKETPLACE
Nilsson (Harry Nilsson)
Greatest Hits / 1978 / RCA Victor AFL1-2798
VG+ / VG+ / $14.00
Original release. Everybody's Talkin', Without Her, One, I Guess The Lord Must Be In New York City, Me And My Arrow, Coconut, Without You, Jump Into The Fire, Spaceman, Remember Christmas, As Time Goes By, Daybreak
Harry Nilsson
A Little Touch of Schmilsson in the Night / 1980 / RCA Victor AYL1-3761
VG++ / VG++ / $12.50
"Best Buy Series" reissue. Nilsson stands with the greats in his renditions of Lazy Mood, For Me And My Gal, It Had To Be You, Always, Makin' Whoopee!, You Made Me Love You, Lullaby In Ragtime, I Wonder Who's Kissing Her Now, What'll I Do?, Nevertheless (I'm In Love With You), This All I Ask, As Time Goes By
Harry Nilsson & Ringo Starr
Son Of Dracula (soundtrack) / 1974 / Rapple ABL1-0220
VG++ / NM / $18.00 BUY AT GREG'S GROOVES ON AMAZON MARKETPLACE
Original release with bat-wing shaped foldout cover