Home/order
If you found this page via Google or another search engine, CLICK HERE to enter our full-featured site
Tom Petty original vinyl records
Listed by release date. Please e-mail for more details. Grading order is cover/vinyl. Grading standards & terms
See also Traveling Wilburys
Tom Petty & The Heartbreakers
Tom Petty & The Heartbreakers / 198? / MCA 1646
VG++ / NM / $25.00

Mid-'80s reissue of their 1976 debut album. Rockin' Around With You, Breakdown, Hometown Blues, The Wild One Forever, Anything That's Rock 'N' Roll, Strangered In The Night, Fooled Again (I Don't Like It), Mystery Man, Luna, American Girl
Tom Petty & The Heartbreakers
Damn The Torpedoes / 1979 / Backstreet MCA-5105
NM woc / VG+ / $35.00

Original release. Includes Refugee, Here Comes My Girl, Don't Do Me Like That. With custom inner sleeve. Tiny writing on back cover
Tom Petty
Hard Promises / 1981 / Backstreet BSR-5160
NM / NM / $25.00

Original release with 22" x 11" poster/lyric sheet and custom inner sleeve with credits. The Waiting, A Woman In Love (It's Not Me), Nightwatchman, Something Big, Kings Road, Letting You Go, A Thing About You, Insider, The Criminal Kind, You Can Still Change Your Mind

Tom Petty & The Heartbreakers
Long After Dark / 1982 / Backstreet BSR 5360
VG++ / VG++ / $25.00 BUY AT GREG'S GROOVES ON AMAZON MARKETPLACE
Original release. Includes original inner sleeve with lyrics & credits. Track list: A One Story Town, You Got Lucky, Deliver Me, Change Of Heart, Finding Out, We Stand A Chance, Straight Into Darkness, The Same Old You, Between Two Worlds, A Wasted Life.
Tom Petty
Hard Promises / 198? / MCA 1479 (Backstreet BSR-5160)
NM / VG++ / $20.00

Mid-'80s issue with new MCA catalog # stamped on cover. Label is the original Backstreet version. Includes 22" x 11" poster/lyric sheet and custom inner sleeve with credits. The Waiting, A Woman In Love (It's Not Me), Nightwatchman, Something Big, Kings Road, Letting You Go, A Thing About You, Insider, The Criminal Kind, You Can Still Change Your Mind
Tom Petty & the Heartbreakers
Pack Up The Plantation Live! (2 LPs) / 1985 / MCA 2-8021
VG+ / VG++, VG++ / $50.00

Columbia Record Club edition in very nice shape. Most tracks recorded live at the Wiltern Theatre, Los Angeles, others at performances in London, Boston, L.A., Irvine, Calif. and Richfield, Ohio.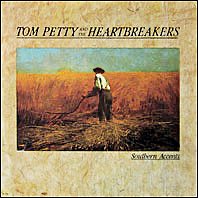 Tom Petty & The Heartbreakers
Southern Accents / 1985 / MCA 5486
VG++ / VG++ / $22.00

Columbia Record Club issue with embossed cover featuring Winslow Homer painting. Rebels, Don't Come Around Here No More, It Ain't Nothin' To Me, Southern Accents, Make It Better (Forget About Me), Spike, Dogs On The Run, Mary's New Car, The Best Of Everything. Custom inner sleeve with lyrics & credits (partially split)
Tom Petty & The Heartbreakers
Let Me Up (I've Had Enough) / 1987 / MCA 5836
VG++ / VG++ / $18.00

Original release. Custom inner sleeve with lyrics & credits

Tom Petty (more Collectibles)
Full Moon Fever / 1989 / MCA 6253
VG++ / NM / $95.00 BUY AT GREG'S GROOVES ON AMAZON MARKETPLACE
Original release, Columbia Record Club edition. Includes original inner sleeve with lyrics and credits. A classic with Free Fallin', I Won't Back Down, Love Is A Long Road, A Face In The Crowd, Runnin' Down A Dream, Feel A Whole Lot Better, Yer So Bad, Depending On You, The Apartment Song, Alright For Now, A Mind With A Heart Of Its Own, Zombie Zoo