Home/order
If you found this page via Google or another search engine, CLICK HERE to enter our full-featured site
Ten Years After
original vinyl records
Listed by release date. Please e-mail for more details. Grading order is cover/vinyl. Grading standards & terms
Ten Years After
Cricklewood Green / 1970 / Deram DES 18038
VG+ / VG+ / $16.00

Original release
Ten Years After
Watt / 1970 / Deram XDES 18050
VG++ / VG+ wol / $14.00
Original release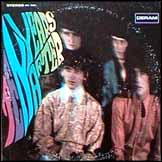 Ten Years After
Ten Years After / 197? / Deram DES-18009
VG+ wobc / NM / $16.00

Their debut album, reissue. Small writing on back cover & label

COVER SIMILAR TO ABOVE
Ten Years After
Ssssh. / 1969 / Deram DES 19029
VG / VG+ / $12.50
Original release
Ten Years After
Alvin Lee & Company / 1972 / Deram XDES-18064
VG+ / VG++ wol / $14.00

Small writing on label
Ten Years After
Rock & Roll Music To The World / 1972 / Columbia KC 31779
VG++ / VG+ / $14.00
Original release

Ten Years After
Recorded Live (2 LPs) / 1973 / Columbia C2X 32288
VG+ / VG++, NM / $18.00 BUY AT GREG'S GROOVES ON AMAZON MARKETPLACE
Original release. Live in Frankfurt, Paris, Amsterdam and Rotterdam.
Ten Years After
Greatest Hits / 1977 / London LC 50008
VG++ / NM / $14.00
London "Collector's Edition", including "I'm Going Home" live from the legendary Woodstock festival. Also Hear Me Calling, Going To Try, Love Like A Man, No Title, I Woke Up This Morning, Woodchopper's Ball.