Home/order
If you found this page via Google or another search engine, CLICK HERE to enter our full-featured site
Ten Years After
original vinyl records
Listed by release date. Please e-mail for more details. Grading order is cover/vinyl. Grading standards & terms
Ten Years After
Cricklewood Green / 1970 / Deram DES 18038
VG+ / VG+ / $16.00

Original release
Ten Years After
Watt / 1970 / Deram XDES 18050
VG+ / VG+ wol / $25.00 BUY AT GREG'S GROOVES ON AMAZON MARKETPLACE
Original release with gatefold cover. Track list: I'm Coming On, My Baby Left Me, Think About The Times, I Say Yeah, The Band With No Name, Gonna Run, She Lies In The Morning, Sweet Little Sixteen (live at the Isle of Wight Festival, 1970).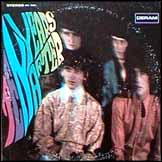 Ten Years After
Ten Years After / 197? / Deram DES-18009
VG+ wobc / NM / $16.00

Their debut album, reissue. Small writing on back cover & label

COVER SIMILAR TO ABOVE
Ten Years After
Ssssh. / 1969 / Deram DES 19029
VG / VG+ / $12.50
Original release
Ten Years After
Alvin Lee & Company / 1972 / Deram XDES-18064
VG+ / VG++ wol / $15.00

Small writing on label
Ten Years After
Recorded Live (2 LPs) / 1973 / Columbia C2X 32288
VG+ / VG++, NM / $18.00 BUY AT GREG'S GROOVES ON AMAZON MARKETPLACE
Original release. Live in Frankfurt, Paris, Amsterdam and Rotterdam.
Ten Years After
Greatest Hits / 1977 / London LC 50008
VG++ / NM / $20.00

London "Collector's Edition", including "I'm Going Home" live from the legendary Woodstock festival. Also Hear Me Calling, Going To Try, Love Like A Man, No Title, I Woke Up This Morning, Woodchopper's Ball.