Home/order
If you found this page via Google or another search engine, CLICK HERE to enter our full-featured site

Back to New Arrivals
AC/DC
original
vinyl
records
Please e-mail for more details. Grading order is cover/vinyl Grading standards & terms
AC/DC
Let There Be Rock / 1977 / Atco SD36-151
VG / VG+ / $20.00

Original release, yellow label
AC/DC
Powerage / 1978 / Atlantic SD 19180
VG+ / NM / $35.00

Original release. Vinyl in great shape
AC/DC
If You Want Blood / 1978 / Atlantic SD 19212
VG+ / VG+ / $35.00

Original release
AC/DC
Highway To Hell / 1979 / Atlantic R 123986
VG++ / NM / $40.00

RCA Music Service edition
AC/DC
Back In Black / 1980 / Atlantic SD 16018
VG / VG / $15.00
Original release with embossed cover. Vinyl worn

AC/DC
For Those About To Rock We Salute You / 1981 / Atlantic SD 11111
VG+ / VG+ / $45.00 BUY AT GREG'S GROOVES ON AMAZON MARKETPLACE
Original release, Columbia Record Club edition, Specialty pressing, with embossed gatefold cover. Track list: For Those About To Rock (We Salute You), Put The Finger On You, Let's Get It Up, Inject The Venom, Snowballed, Evil Walks, C.O.D., Breaking The Rules, Night Of The Long Knives, Spellbound.
AC/DC
Dirty Deeds Done Dirt Cheap / 1981 / Atlantic SD 16033
VG+ co / VG / $20.00

Original U.S. release of their third album. Includes inner sleeve with lyrics. Track list: Dirty Deeds Done Dirt Cheap, Love At First Feel, Big Balls, Rocker, Problem Child, There's Gonna Be Some Rockin', Ain't No Fun (Waiting Round To Be A Millionaire), Ride On, Squealer.
AC/DC
Flick Of The Switch / 1983 / Atlantic 80100-1
VG++ co / VG++ / $30.00

Original release
AC/DC
Fly On The Wall / 1985 / Atlantic 81263-1-E
VG+ / VG+ / $30.00

Original release. Custom inner sleeve with lyrics
AC/DC
Who Made Who? / 1986 / Atlantic 81650-1-E
VG+ / VG+ / $25.00

Soundtrack to the movie Maximum Overdrive
AC/DC (more AC/DC)
Blow Up Your Video / 1988 / Atlantic 81828-1
Sealed / $60.00

Original release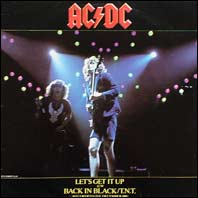 AC/DC
Let's Get It Up / Back In Black / T.N.T. (12-inch 45, PS) / 1981 / Atlantic K11706T
VG+ / NM / $20.00 BUY AT GREG'S GROOVES ON AMAZON MARKETPLACE
U.K. release. Recorded live, December 1981
AC/DC
Heat Seeker / Go Zone (7" PS) / 1988 / Atlantic 7-89136
VG++ / NM / $8.00
AC/DC
Who Made Who / Guns For Hire (live) (7" PS) / 1986 / Atlantic AT425
VG++ / VG++ / $8.00
U.K. release
AC/DC
Let's Get It Up / Snowballed (7" single)
VG+ / $5.00