Home/order
If you found this page via Google or another search engine, CLICK HERE to enter our full-featured site
Bing Crosby


original
vinyl records
Listed by release date. Please e-mail for more details. Grading order is cover/vinyl. Grading standards & terms
Bing Crosby (more Christmas records)
Merry Christmas (10-inch LP) / 1949 / Decca DLP 5019 mono
VG+++ / VG+ / $40.00

Silent Night, Adeste Fideles, White Christmas, God Rest Ye Merry Gentlemen, I'll Be Home For Christmas, Faith Of Our Fathers, Jingle Bellls (with the Andrews Sisters), Santa Claus Is Coming To Town (with the Andrews Sisters)
Bing Crosby (more Christmas albums) (more Sealed albums)
Songs Of Christmas / 1960 / Decca DL 34461 mono
Sealed / $35.00

Custom release for La-Z-Boy chairs, with cover and back cover photos showing Crosby in his La-Z-Boy. Cover photo also shows Kathryn Crosby with her husband in their Hillsborough, Calif., home. Track list: Rudolph The Red-Nosed Reindeer, Away In A Manger, The Christmas Song, I Saw Three Ships, Good King Wenceslas, Angels We Have Heard On High, I Heard The Bells On Christmas Day, Twelve Days Of Christmas, We Three Kings Of Orient Are, The First Nowell, O Fir Tree Dark, Deck The Halls, Happy Holiday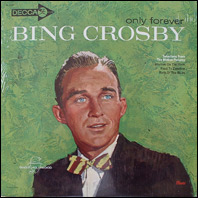 Bing Crosby (more Sealed albums) (more Collectibles)
Bing's Hollywood: Only Forever / 1962 / Decca DL 4255 mono
Sealed / $65.00 $50.00 BUY AT GREG'S GROOVES ON AMAZON MARKETPLACE
Selections of music from the films Rhythm On The River, Road To Zanzibar, Birth Of The Blues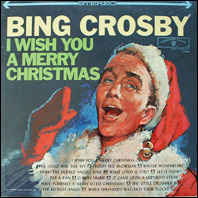 Bing Crosby (more Christmas records) (more Sealed albums)
I Wish You A Merry Christmas / 1962 / Warner Bros WS 1484
Sealed / $45.00

Very light wear on back cover. Winter Wonderland, Have Yourself A Merry Little Christmas, What Child Is This, The Holly And The Ivy, The Little Drummer Boy, O Holy Night, The Littlest Angel, Let It Snow Let It Snow Let It Snow, Hark The Herald Angels Come, It Came Upon The Midnight Clear, Frosty The Snow Man, Pat-A-Pan, While Shepherds Watched Their Flocks, I Wish You A Merry Christmas
Bing Crosby (more Christmas albums) (more Sealed albums)
How Lovely Is Christmas / 196? / Golden LP 121
Sealed / $50.00

Crosby tells and sings Arnold Sundgaard's Christmas story "An Axe, an Apple and a Buckskin Jacket." "A musical folk tale about a little boy who discovers the meaning of Christmas and receives gifts from three kings of the American Frontier: Daniel Boone, Paul Bunyan, Johnny Appleseed." Music by Alex Wilder, orchestra and chorus directed by Mitch Miller.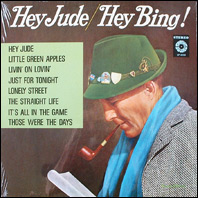 Bing Crosby (more Sealed records)
Hey Jude / Hey Bing! / 197? / Springboard SP-4008
Sealed / $15.00

Reissue of Amos AAS-7001. With the Jimmy Bowen Orchestra and Chorus, Bing sings Hey Jude, Little Green Apples, Livin' On Lovin', Just For Tonight, Lonely Street, The Straight Life, It's All In The Game, Those Were The Days
Bing Crosby (more Sealed albums)
Bing Crosby's Greatest Hits / 1977 / MCA 3031
Sealed co / $15.00

Cut corner and tiny punch-hole in cover, shrinkwrap partially torn. Recordings from 1939-1947, including White Christmas, The Whiffenpoof Song, I Surrender Dear, Blue Skies, Pistol Packin' Mama, Too-Ra-Loo-Ra-Loo-Ral, Ac-Cent-Tchu-Ate The Positive, Don't Fence Me In, You Are My Sunshine, Swinging On A Star, Deep In The Heart Of Texas, Where The Blue Of The Night Meets The Gold Of The Day.
Bing Crosby
The Best Of Bing (2 LPs) / 197? / MCA2-4045
NM / NM, NM / $16.00

Reissue. Where The Blue Of The Night Meets The Gold Of The Day, Swinging On A Star, June In January, You Are My Sunshine, It's Been a Long Long Time, MacNamara's Band, The One Rose (That's Left In My Heart), Sweet Leilani, I'm An Old Cowhand, It's Easy To Remember, Pennies From Heaven, Don't Fence Me In, Sunshine Cake, I Can't Begin To Tell You, Mexicali Rose, The Whiffenpoof Song, Play A Simple Melody, White Christmas, Dear Hearts And Gentle People, Galway Bay, In The Cool Cool Cool Of The Evening, Too-Ra-Loo-Ra-Loo-Ral, Sam's Song (The Happy Tune), Now Is The Hour (Maori Farewell Song)
Bing Crosby
A Legendary Performer / 1977 / RCA Victor CPL1-2086E
NM / NM / $15.00
Ol' Man River, Three Little Words, It Must Be True, Wrap Your Troubles In Dreams, Just A Gigolo, I'm Through With Love, Just One More Chance, Some Sunny Day, I'm Gonna Sit Right Down And Write Myself A Letter, Mack The Knife, Dream A Little Dream Of Me, Whispering, Down Among The Sheltering Palms. Includes 12-page photo-bio booklet about the man who once said, "I'd rather sing than eat!" Booklet has vintage color portrait of Bing that's suitable for framing
Bing Crosby
Bing Crosby Sings the Great Country Hits / 1977 / Capitol SM-11737
VG++ co / VG++ / $12.50

Reissue. Oh Lonesome Me, Heartaches By The Number, Four Walls, Bouquet Of Roses, Wabash Cannon Ball, Wolverton Mountain, Hello Walls, A Little Bitty Tear, Jealous Heart, Still
Bing Crosby
Crosby Classics Volume 1 / 1977 / Capitol SM-11738
VG++ / NM / $14.00
Reissue. Take Me Out To The Ball Game; Meet Me In St. Louis, Louis; Peggy O'Neil; Aura Lee, Cuddle Up A Little Closer Lovey Mine (medley); Daisy Bell, The Bowery, After The Ball (medley); Long Long Ago, On The Banks Of The Wabash, The Quilting Party (medley); Shoo Fly Don't Bother Me, Oh Dem Golden Slippers, On The Road To Mandalay (medley); Give My Regards To Broadway, Mary's A Grand Old Name, You're A Grand Old Flag (medley); Goodbye My Lady Love, Linger Awhile, Heart Of My Heart (medley); Doodle Doo Doo, All I Do Is Dream Of You (medley); Alice Blue Gown, I Love You Truly, When I Grow Too Old To Dream (medley); A Hot Time In The Old Time Tonight, Toot Toot Tootsie, Ta-Ra-Ra Boom Der-E (medley)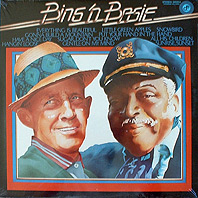 Bing Crosby / Count Basie (more Count Basie)
Bing 'N Basie / 1972 / Daybreak DR2014
Sealed / $35.00 $25.00 BUY AT GREG'S GROOVES ON AMAZON MARKETPLACE
Gentle On My Mind, Everything Is Beautiful, Gonna Build A Mountain, Sunrise Sunset, Hangin' Loose, All His Children, Put Your Hand In The Hand, Snowbird, Little Green Apples, Sugar Don't You Know, Have A Nice Day. Liner notes by Johnny Mercer.
Bing Crosby / Rosemary Clooney (more Christmas records)
White Christmas / 1978 / Collector's Gold LP-598
NM / VG++ / $18.00

Canadian release. Crosby sings White Christmas, Adeste Fideles, Rudolph The Red-Nosed Reindeer, Away In A Manger, O Little Town Of Bethlehem, Silent Night. Clooney sings The Christmas Song, It Came Upon A Midnight Clear, Have Yourself A Merry Little Christmas, Little Drummer Boy, Jingle Bells