Home/order
If you found this page via Google or another search engine, CLICK HERE to enter our full-featured site
Judy Garland original vinyl records

Listed by release date. Please e-mail for more details. Grading order is cover/vinyl. Grading standards & terms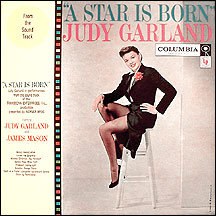 Judy Garland
A Star Is Born (soundtrack) / 1958 / Columbia CL 1101 mono
NM / NM / $30.00

Music & lyrics by Harold Arlen & Ira Gershwin
Judy Garland
A Star Is Born (soundtrack) / 197? / Columbia LE 10011
VG++ / VG++ / $12.50 BUY AT GREG'S GROOVES ON AMAZON MARKETPLACE
Limited edition reissue. Track list: Gotta Have Me Go With You, The Man That Got Away, Born In A Trunk (I'll Get By, You Took Advantage Of Me, Black Bottom, The Peanut Vendor, My Melancholy Baby, Swanee), Here's What I'm Here For, It's A New World, Someone At Last, Lose That Long Face. Music & lyrics by Harold Arlen & Ira Gershwin.
Judy Garland
Judy At Carnegie Hall (2 LPs) / 1961 / Capitol WBO-1569
VG++ / NM, VG++ / $45.00

Original release.
Judy Garland (more Sealed albums)
Judy In Hollywood (movie & TV soundtrack) / 196? / Radiant 711-0102
Sealed / $25.00

Small tear in shrinkwrap. Love Of My Life, A Couple Of Swells, That's Entertainment, The Boy Next Door, How About Me, Medley: If I Had A Talking Picture Of You; Toot Toot Tootsie Goodbye, Medley: You Made Me Love You; For Me And My Gal; The Trolley Song, As Long As He Needs Me, Dirty Hands Dirty Face, Pretty Girl Milking Her Cows, Puttin' On The Ritz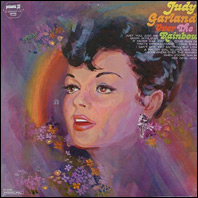 Judy Garland (more Sealed albums)
Over The Rainbow / 197? / Pickwick PC 3078
Sealed / $35.00

Reissue of Capitol Records tracks. Somewhere Over The Rainbow, Come Rain Or Come Shine, Just You Just Me, A Pretty Girl Milking Her Cow, When You're Smiling, Old Devil Moon, I Can't Give You Anything But Love, Down With Love, It Never Was You, That's Entertainment
Judy Garland
Judy (original TV soundtrack) / 197? / Radiant 711-0101
VG++ / NM / $20.00

From her early '60s TV show, The Judy Garland Show. Come Rain Or Come Shine, Smile, I Can't Give You Anything But Love, Hey Look Me Over, (I'll Go My Way) By Myself, San Francisco, Fly Me To The Moon, Do It Again, After You've Gone, All Alone, It's Gonna Be A Great Day
Judy Garland
Judy's Portrait In Song (original TV soundtrack) / 197? / Radiant 711-0106
VG++ / NM / $24.00

From her early '60s TV show, The Judy Garland Show. Track list: From This Moment On, Sweet Little Alice Blue Gown, San Francisco, Sweet Danger, When Your Lover Has Gone / Some People (Medley), Oh Shenandoah, A Couple Of Swells, Almost Like Being In Love / This Can't Be Love (medley), Free & Easy, Never Will I Marry, I'm Old Fashioned, Old Devil Moon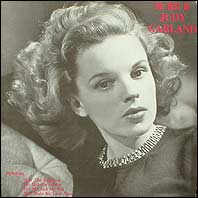 Judy Garland
The Best Of Judy Garland / 1981 / MCA MCL 1630
NM / VG++ / $25.00

U.K. release. With beautiful, uncredited cover portrait that tells the story of her life - past, present and future. On The Atchison Topeka And The Santa Fe, I'm Always Chasing Rainbows, But Not For Me, Meet Me In St. Louis, For Me And My Girl, In Between, (Dear Mr. Gable) You Made Me Love You, F.D.R. Jones, The Trolley Song, Embraceable You, The Boy Next Door, Zing Went The Strongs Of My Heart, I've Got Rhythm, When You Wore A Tulip, I'm Nobody's Baby, Over The Rainbow

Home/order