Home/order
If you found this page via Google or another search engine, CLICK HERE to enter our full-featured site
Dire Straits original
vinyl records
Listed by release date. Please e-mail for more details. Grading order is cover/vinyl. Grading standards & terms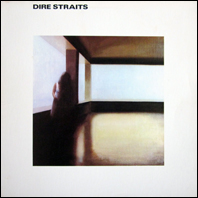 Dire Straits
Dire Straits / 1978 / Warner Bros BSK-3266
VG++ / VG+ / $22.00

Their fine debut album, with Down To The Waterline, Water of Love, Setting Me Up, Six Blade Knife, Southbound Again, Sultans of Swing, In The Gallery, Wild West End, Lions. Includes original inner sleeve with lyrics & credits
Dire Straits
Communique / 1979 / Warner Bros HS 3330
NM / NM / $18.00

Custom inner sleeve with credits
Dire Straits
Making Movies / 1980 / Warner Bros BSK 3480
VG++ / VG++ / $16.00
Tunnel Of Love, Romeo And Juliet, Skateaway, Expresso Love, Hand In Hand, Solid Rock, Les Boys
Dire Straits
Love Over Gold / 1982 / Warner Bros 27328-1
VG+ / VG+ / $25.00

Original release. Track list: Telegraph Road, Private Investigations, Industrial Disease, Love Over Gold, It Never Rains. Original inner sleeve not included.
Dire Straits
Dire Straits Live (12" 45) / 1984 / Vertigo DSTR 612
VG++ / VG++ / $16.00

U.K. release. Live performances of "Love Over Gold" and "Solid Rock"

COVER SIMILAR TO ABOVE

Dire Straits
Brothers In Arms / 1985 / Warner Bros 25264
VG++ / VG++ / $24.00

Original release of a classic. Track list: So Far Away, Money for Nothing, Walk Of Life, Your Latest Trick, Why Worry, Ride Across The River, The Man's Too Strong, One World, Brothers In Arms. Includes custom inner sleeve with lyrics & credits
Dire Straits
Money For Nothing / 1988 / Warner Bros 25794
VG+ / NM / $20.00

Columbia House edition. Hits including Sultans Of Swing, Down To The Waterline, Portobello Belle (live), Twisting By The Pool (remix), Romeo And Juliet, Where Do You Think You're Going, Walk Of Life, Private Investigations, Money For Nothing, Tunnel Of Love, Brothers In Arms. Custom inner sleeve with lyrics