Home/order
If you found this page via Google or another search engine, CLICK HERE to enter our full-featured site
Vinyl records - Erotica
Romantic or sexy covers or content, pinups, cheesecake ...
Grading order is cover/vinyl. Grading standards & terms
TO ORDER on AMAZON:
● Click the Amazon link
● Select Vinyl
● View Collectible or Used to compare our offering with the competition!

Bar-Kays (more Soul/Funk/Disco) (more Sealed original vinyl)
Dangerous / 1984 / Mercury 818 478-1 M-1
Sealed / $75.00 BUY AT GREG'S GROOVES ON AMAZON MARKETPLACE
Original release in new, unmarked, factory-sealed condition. Not a cutout. Factory sticker on shrink promotes Freak Show, Dance Party and Dirty Dancer. Track list: Dangerous, Dirty Dancer, Make Believe Lover, Dance Party Etc., Freakshow On The Dancefloor, Lovers Should Never Fall In Love, Loose Talk, Sexomatic.

COVER SIMILAR TO ABOVE
Battlestar Galactica
Giorgio Moroder / 1978 / Casablanca NBLP-7126
VG++ co / VG++ / $25.00

Cover art by Winston Taylor. Cut corner on cover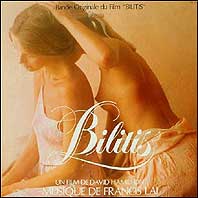 Bilitis (soundtrack)
Francis Lai / 1977 / Seven Seas FML-78
VG++ / NM / $55.00 BUY AT GREG'S GROOVES ON AMAZON MARKETPLACE
Japanese release. From the David Hamilton movie, with erotic cover and gatefold art by Hamilton. Includes insert in Japanese.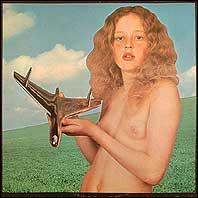 Blind Faith
Blind Faith / 1986 / RSO 422-825 094-1
VG++ / NM / $45.00

'80s reissue with Bob Seidemann's original cover photo. A classic with Had To Cry Today, Can't Find My Way Home, Well All Right, Presence Of The Lord, Sea Of Joy, Do What You Like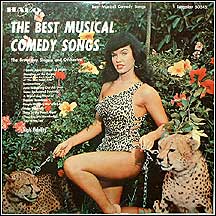 Broadway Singers & Orchestra
The Best Musical Comedy Songs / 1957 / Halo 50245 mono
NM / VG+ /

Notable for its collectible cover (see larger image) featuring Bunny Yeager's photo of '50s pinup vixen Bettie Page

Canya Phuckem And Howe (more Rarities)
Sleeze Attack / 1980 / More Best MB 001
VG+ / VG+ / $50.00 BUY AT GREG'S GROOVES ON AMAZON MARKETPLACE
Rare and raunchy artifact of the San Francisco gay scene, circa 1980.
Country Porn
Chinga Chavin's Country Porn / 1976 / Country Porn Records (no #)
VG++ / VG++ / $30.00
Gatefold cover with the raunchy lyrics
Dynamite Masters Blues Quartet
Dynamite Masters Blues Quartet (7" EP) / 1987 / Mangrove ROOT-006
NM / NM / $18.00
Japanese release, sea green vinyl
Jose Echaniz
Lecuonas: Danzas Afro-Cubanas / 195? / Westminster XWN 18435 mono
VG+ / VG++ /

Tape on cover seam and small writing on back cover
Flower
Heat / 1979 / MCA 3153
VG++ / VG+ / $11.00
London Philharmonic Orchestra
Sounds Astounding / 197? / Stereo Gold Award MER 405
VG+ / VG++ / $10.00

U.K. release. Full symphony orchestra with synthesizers
Jimmy McGriff (more Jimmy McGriff) (more Jazz) (more Collectibles)
Groove Grease / 1971 / Groove Merchant GM 503
VG / VG- / $44.00 BUY AT GREG'S GROOVES ON AMAZON MARKETPLACE
Original release with W. 61 Street address on labels and back cover. Vinyl heavily used, background crackle will be audible throughout. top cover seam partially split. Cover photo by Chuck Stewart. Track list: Groove Grease, The Bird, Plain Brown Bag, There Will Never Be Another You, Canadian Sunset, Mr. Lucky, Moonglow, Red Sails In The Sunset, Secret Love.
Montrose (more Montrose)
Jump On It / 1976 / Warner Bros BS 2963
VG++ / VG++ / $12.50
Original release, custom inner sleeve with credits
Diana Ross (more Diana Ross)
Why Do Fools Fall In Love / 1981 / RCA Victor AFL1-4153
NM / NM / $12.00
Sexy gatefold cover, custom inner sleeve with credits
Roxy Music (more Roxy Music)
Country Life / 1974 / Atco SD-36-106
VG++ / VG+ / $16.00

Original cover. Custom inner sleeve is taped at seams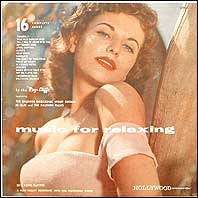 Roy-Cliffs
Music For Relaxing / 195? / Hollywood LPH 5 mono
NM / VG / $25.00

Featuring the "Baldwin Orgasonic Spinet Organ" and piano. A Saturday Evening Post production. If you recognize the pinup queen, please email

Sin
Praised For Their Music, Damned For Their Lyrics / 1988 / Caligula CR6969
NM is / NM / $50.00 $30.00
Rare glam/sleaze. Includes insert with lyrics & credits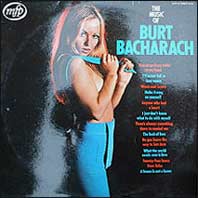 Strings For Pleasure
The Music Of Burt Bacharach / 1971 / MFP 5159
VG++ / VG++ / $10.00
Dutch release. With cheesecake cover
Various Artists
Copulatin' Blues Volume One / 1976 / Stash ST 101
VG++ / NM / $30.00 BUY AT GREG'S GROOVES ON AMAZON MARKETPLACE
Original Stash compilation, not a reissue. 16 raunchy blues songs from the '30s. Artists include Sidney Bechet, Bessie Smith, Lil Johnson, Johnny Temple, Merline Johnson, Coot Grant, Lucille Bogan, Bessie Jackson, Georgia White. Includes insert with unexpurgated lyrics.
Various Artists
Turn On With The World's Most Sensuous Music / 1978 / Turn On TO 1001
NM is / VG++ / $14.00
Featuring Ravel's Bolero plus sexy selections from Rachmaninoff, Wagner, Falla, Tchaikovsky, Rimky-Korsakov, Strauss, Debussy.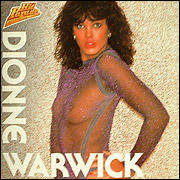 Dionne Warwick (more Dionne Warwick)
Dionne Warwick / 198? / Hit Parade International HP-14
NM / NM / $15.00
Italian release. Gratuitous cheesecake cover, otherwise nice package with 12-page booklet insert with color photos of the artist and biographical notes in Italian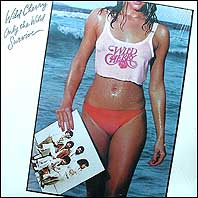 Wild Cherry
Only The Wild Survive / 1979 / Epic JE 35760
NM is / VG++ / $12.50